Fighting in Sudan continues despite ceasefire agreement
The international community is not doing enough to stop the fighting between rival military factions, a political analyst has told RT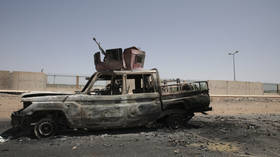 Sudan's warring factions agreed on Saturday to a seven-day ceasefire beginning Monday to allow humanitarian aid to be delivered, but local media reported new artillery shelling and bombardments in Khartoum and other cities.
A field report released on Monday by the Sudanese Doctors Union estimated that the five-week conflict has killed at least 863 people and injured no less than 3,531 others.
Speaking to RT, political analyst Isam Elzein said international players are "not really doing enough to stop this fighting" between the Sudanese Armed Forces (SAF) and rival paramilitary Rapid Support Forces (RSF).
"The people of Sudan really don't care right now who is going to win; they care about humanitarian issues – the shortage of food and medicine and money," Elzein said.
He added that the two generals appear unwilling to negotiate, and expressed concern about further violations of the armistice, which he said could lead to an escalation of violence across the country.
You can share this story on social media: