Somalis cheer on Türkiye's Erdogan to win re-election
People in Mogadishu express their support for Turkey's leader, after years of assistance from Ankara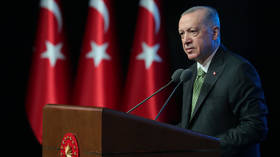 The Turkish election is being closely followed in Somalia, where many people are hoping President Recep Tayyip Erdogan wins a third term in next week's run-off.
RT spoke with residents of Mogadishu, who said they're hoping for Türkiye's continued security assistance to the Horn of Africa nation, where the armed group al-Shabab has been attempting to topple the central government.
"The opposition might not do the same if it wins, but if Erdogan's party comes out on top, it will be a victory for Somalia too, especially considering that Türkiye is the main supporter of our military as well as our leading economic partner," a local told RT.
Ankara will hold a second round of voting on May 28 after neither Erdogan nor his main challenger, Kemal Kilicdaroglu, were able to secure an outright majority in Sunday's presidential election.
Erdogan received more than 49.4% of the vote, with Kilicdaroglu securing 44.96%, while the third candidate, Sinan Ogan, garnered 5.17%, Turkey's Supreme Election Council said on Monday.
You can share this story on social media: