Southern African nations agree to deploy troops to DR Congo
SADC forces will join the East African regional military force to fight the M23 rebel militia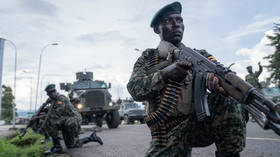 Southern African countries will deploy troops to the eastern Democratic Republic of Congo in an effort to end violence sparked by armed groups that have been terrorizing civilians in the mineral-rich region for years.
This decision was made last week during a summit of the 16-member Southern African Development Community (SADC), which includes countries such as South Africa, Angola, Mozambique, and Tanzania.
SADC troops will join the East African regional military force that has been present in several areas previously controlled by the M23 militia since December 2022. However, the insurgency has continued in the North Kivu province, where the Tutsi-led rebels occasionally clash with rival militias.
The arrival of SADC forces in Beni, North Kivu, was met with optimism by some residents who said they have been devastated by brutal killings.
"For years we have been suffering from war night and day. People are being killed. SADC is coming to help us. We cannot chase them away or refuse to let them come. We will listen to them as we do to others who continue to fight against the rebels," a local told RT.
Also speaking to RT, Jeroboam Shaanika, executive director at the Namibian Ministry of International Relations, said the SADC is working to ensure peace and stability in order to attain "deeper integration." He added that this "cannot be attained if there are conflicts in parts of the region, and that is why this conflict has to be brought to an end."
The United Nations has said the ongoing violence has affected education for more than 600,000 children in North Kivu, as well uprooting more than 800,000 people in a country where more than 6 million are internally displaced. At least 97 civilians were killed by rebel groups in early March of this year, according to the UN.
You can share this story on social media: