German FM issues warning to South Africa
Annalena Baerbock says she is "very concerned" with allegations that Pretoria delivered arms to Russia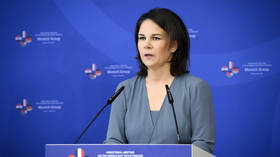 Berlin takes Washington's claims that Moscow received a weapons shipment from South Africa "very seriously," German Foreign Minister Annalena Baerbock announced on Friday. Her statement came after Pretoria rejected the allegations and summoned the US ambassador for a diplomatic dressing-down.
"I am very concerned that there have been these reports," Baerbock told journalists on the sidelines of the EU foreign ministers summit in Stockholm, Sweden. She added that she was treating the allegations "very seriously" and would consult with other countries on the matter.
"If someone were to supply weapons to the aggressor, it would be the opposite of ending the war," Baerbock said, referring to the Russia-Ukraine conflict. Germany recently approved the delivery of hundreds of its Leopard main battle tanks to Ukraine.
On Thursday, US Ambassador to South Africa Reuben Brigety claimed that the Russian-flagged cargo ship Lady R. left the port of Simon's Town in December 2022 loaded with weapons and ammunition. He was later summoned to the South African Foreign Ministry for his remarks.
President Cyril Ramaphosa's office said there was no evidence to back the US envoy's claim. South African Foreign Ministry spokesman Clayson Monyela tweeted on Friday that the country's arms control regulator had "no record of an approved arms sale by the state to Russia related to the period/incident in question." Nevertheless, Pretoria has set up an inquiry into the matter.
Unlike Germany and many other NATO members, South Africa has refused to pick a side in the conflict between Russia and Ukraine. Pretoria has not imposed sanctions on Moscow and has not supplied Kiev with weapons.
"We should not be told by anyone who we associate with and we should never be put in positions where we have to choose who our friends are," Ramaphosa said last year, defending his country's neutrality.
You can share this story on social media: