'Cult death' victims were missing organs – police
Kenyan investigators say post-mortem reports have raised suspicions about the harvesting and trafficking of body parts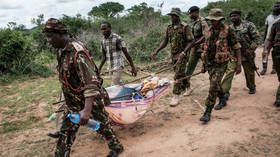 Bodies exhumed from mass graves linked to a Kenyan religious cult were missing organs, autopsies have revealed, local media reported on Tuesday, citing court documents.
Police chief Martin Munene said suspected cult leader Paul Nthenge Mackenzie is now being investigated for involvement in organ trafficking after the postmortem reports established that organs were missing from "some of the bodies of victims who have been exhumed," Kenyan outlet Waza reported.
Mackenzie, the founder of the Good News International Church in eastern Kenya, was arrested on April 14 and charged with "terrorism" after allegedly ordering his followers to starve themselves to death in order to "meet Jesus."
Authorities have recovered 112 bodies from shallow graves since last month in what has become known as the "Shakahola Forest Massacre." While starvation appears to have been the primary cause of death, according to autopsy reports, the chief government pathologist, Dr. Johansen Oduor, stated that some of the victims, including children, had been strangled, beaten, or suffocated.
The country's interior minister, Kithure Kindiki, said on Tuesday that "25 people have so far been arrested, and the investigation team is closing in on level-two and level-three perpetrators who aided Mr. Mackenzie to execute the heinous atrocity."
Waza quoted Inspector Munene as saying that "the trade in human body organs was well-coordinated, involving multiple players."
According to Munene, televangelist Ezekiel Odero, who was arrested on April 27 in connection with the massacre and was granted bail on Thursday, has "a close link" to Mackenzie. He said Odero also received large amounts of cash allegedly from Mackenzie's followers who sold their properties under the cult leader's influence.
On Monday, a Nairobi court reportedly ordered the authorities to freeze more than 20 of Odero's bank accounts for 30 days.
You can share this story on social media: