Ugandan minister shot dead – media
Charles Okello Engola was killed by his bodyguard while getting into his car on the way to a cabinet meeting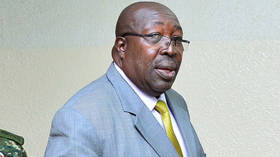 Ugandan Minister for Labor, Employment and Industrial Relations Charles Okello Engola has been shot dead, local media reported on Tuesday, citing a police statement.
Engola was killed by his bodyguard, a soldier from the Ugandan National Army, at his home in Kyanja, near Kampala, on Tuesday morning, deputy police spokesperson Luke Owoyesigire told the Daily Monitor.
The shooter, identified as Wilson Sabiti, reportedly fled the scene before entering a shop and killing himself.
The motive behind the shooting is still unclear, and it is not known whether there had been an altercation between the soldier and the minister before the incident. However, Latif Ssebagala, a former Kawempe North legislator, claimed eyewitnesses had told him the bodyguard killed his boss over unpaid wages.
"The residents were saying that the man was saying, 'I'm tired; I'm demanding my salary; I'm not paid. I'm living in a very worried state,'" Ssebagala said, providing an account of the circumstances surrounding the shooting.
Police have yet to confirm whether there were any other victims, according to local media.
"We are also trying to establish if there were any bodyguards who could have been injured," police spokesperson Fred Enanga said, as quoted by the Daily Monitor.
You can share this story on social media: