Germany gives estimate on troop withdrawal
Defense Minister Boris Pistorius said pulling military forces out of Mali is not like moving "a family of five with a truck"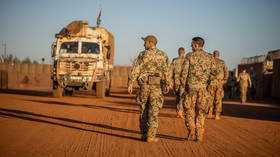 The German government has announced a timeline of between nine months to a year to withdraw its military personnel from Mali, but insisted that the removal will not affect development aid to the West African nation.

Speaking after a visit to the UN peacekeeping mission (MINUSMA) in the Gao region on Thursday, Pistorius said that "depending on the circumstances, [Berlin] requires the next nine to twelve months" to pull out its troops.

"We are not talking about moving a family of five people with a truck," he told reporters, describing the undertaking as a "military logistical operation" that requires time.

Pistorius argued that Germany's contingent in the country was important, particularly for reconnaissance missions, but said such a commitment had been difficult to maintain in recent months due to changing political conditions in Mali.

"It is not the commitment that has failed, it is the conditions that have made this commitment fail," he said.

Development Minister Svenja Schulze, who accompanied Pistorius on his visit, said German civilian aid will continue even after the military engagement ends, with projects focusing on access to water and agriculture.

Berlin's Defense Ministry announced the suspension of its participation in the MINUSMA mission in August 2022 after Malian authorities allegedly denied a German military plane access to its airspace. A month earlier, the Bundeswehr had withdrawn around 60 soldiers from Bamako due to "harassment" and amid claims that German armed forces had been prevented from boarding a civilian flight.
Germany said in November last year that it would begin removing the more-than-1,000 deployed troops from Mali this summer and complete the process by May 2024.

A military coup in Mali in 2020 is said to have led to a shift in the country's alliances, with the new leadership turning to Russia for military and political support.

Mali had invited outside help in 2013 to deal with jihadist militants which had seized portions of the country. France had led the way with its Operation Barkhane, later expanding this to neighboring Burkina Faso, Chad, Mauritania, and Niger. However, Paris ended its mission last year amid growing discontent in its former colonies over a lack of success in dealing with jihadists.

Berlin's Foreign Minister Annalena Baerbock has publicly opposed the idea of removing German troops, fearing that Mali would be a "Russia vassal."
You can share this story on social media: