Egypt denies producing rockets for Russia – media
A senior government official has said a recent Washington Post report has no basis in truth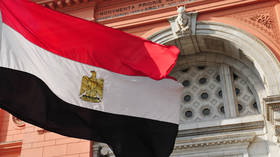 An Egyptian government official has dismissed a Washington Post report claiming that the country's military planned to "secretly" supply Russia with artillery and gunpowder. The claims are "false and have no basis in truth," the senior officer said on Monday, according to Al Qahera News.
The Washington Post in an article on Monday claimed that Egyptian President Abdel Fatah El-Sisi had "recently ordered subordinates" to produce up to "40,000 rockets" to be "covertly shipped to Russia," citing leaked US intelligence documents. El-Sisi reportedly instructed his senior military officials in the "top-secret document" dated February 17 to keep the production and shipment of the rockets secret "to avoid problems with the West."
Responding earlier to the accusations, Egypt's Foreign Affairs Ministry spokesperson Ahmed Abu Zeid told the media that the North African country's "position from the beginning is based on non-involvement in this crisis and committing to maintain equal distance with both sides." She reaffirmed Egypt's support for "the UN charter and international law in UN General Assembly resolutions."
The government source cited by state-affiliated media Al Qahera News reiterated the same position. The unnamed official described the report as "informational absurdity," saying that Egypt maintains a "balanced policy" with all international parties.
Meanwhile, the White House has also said it had no indication that Cairo was providing Russia with deadly arms. A spokesperson for the US National Security Council, John Kirby, informed reporters that Egypt remains Washington's "significant security partner." "The United States military has a longstanding defense relationship with Egypt that goes back many, many years," he said.
Kremlin spokesperson Dmitry Peskov has also rejected the report describing it as "another hoax."
"It looks like another hoax, of which there are plenty now. This is how you should treat such publications," Peskov said in a phone call with journalists on Tuesday.
Egypt, a close ally to the US, has maintained strong ties with Moscow and is a leading buyer of Russian weapons.
You can share this story on social media: