Kremlin refutes secret rocket purchases claim
The report about a plan to receive weapons from Egypt is false, spokesman Dmitry Peskov has said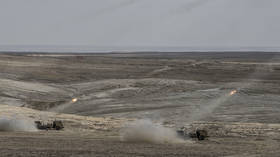 The Kremlin has rejected a claim that it was planning to secretly acquire rockets from Egypt. The allegations were said to have come from leaked US intelligence files.
"This looks like yet another false story, as there are many of them today [in the media]. That is how one should treat such reports," spokesman Dmitry Peskov said in a phone call with journalists on Tuesday.
The Washington Post cited a US intelligence document on Monday that claimed Egyptian President Abdel Fattah el-Sisi had ordered the production of up to 40,000 rockets so they could be discreetly shipped to Russia.
El-Sisi was quoted as telling officials that the operation should be secret "to avoid problems with the West." He also reportedly mentioned plans to supply Moscow with artillery rounds and gunpowder.
According to the Post, the document was among alleged classified Pentagon files that were dumped online earlier this year and unearthed by news organizations last week.
Egyptian Foreign Ministry spokesman Ahmed Abu Zeid told the Post that Cairo remains committed to non-involvement in the Ukraine conflict and to "maintain equal distance with both sides."
"We continue to urge both parties to cease hostilities and reach a political solution through negotiations," Zeid said.
Al Qahera News, meanwhile, cited an Egyptian official who claimed that the Post's story is "nonsense that is not based on truth."
Egypt has maintained close ties with Moscow since Soviet times and is one of the top buyers of Russian weapons. At the same time, the country has good relations with the US, as the two states share a history of security cooperation. The US has also provided military assistance to Egypt.
The US and its allies have imposed sweeping sanctions on Russia over the Ukraine conflict, aiming to cut its export revenues.
Sergey Chemezov – the head of state-run Russian company Rostec, which oversees the work of several defense manufacturers – said in January that the production of munitions has been substantially increased. He stated that "the talk… about Russia running out of rockets and rounds is complete nonsense."
You can share this story on social media: