Berlin expels Chadian ambassador
The German Foreign Ministry says the move is in response to the "the unfounded expulsion" of Gordon Kricke from the country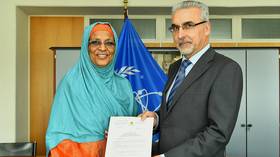 The German government has issued an order for Chad's envoy in Berlin to leave the country, reacting to what it called "the unfounded expulsion" of its own ambassador.
"We regret that it had to come to this," the German Foreign Ministry said in a tweet on Tuesday, after it had summoned Mariam Ali Moussa and "called on her to leave the Berlin within 48 hours."
Germany's Gordon Kricke was expelled from the Central African country in a similar move last Friday over alleged "non-respect of diplomatic customs."
According to media reports, the German ambassador's expulsion was motivated by criticism of Chad's current authorities. Sources within the Chadian government told Reuters that Kricke's comments about delayed elections and a court decision allowing the interim military leader to run for political office were the real reasons for his expulsion. Meanwhile, according to AFP, a Chadian government source said Kricke was "interfering too much" in the country's affairs and making divisive remarks.
Kricke arrived in Germany on Sunday after being sent off by colleagues at N'Djamena International Airport, according to local media.
The German Foreign Ministry praised Kricke, saying he did his job "in an exemplary manner and advocated for human rights and the quick transition to a civilian government in Chad."
Following his father's death on the battlefield in 2021, Mahamat Idriss Deby took over as Chad's leader and initially promised to hold elections within 18 months. The timeline was later extended by two years, pushing the elections back to October 2024. This decision sparked protests, with dozens of civilians killed as a result.
You can share this story on social media: