Africa must 'save the world' from homosexuality – Ugandan president
Yoweri Museveni insists that LGBTQ people are a major threat to the "procreation of the human race"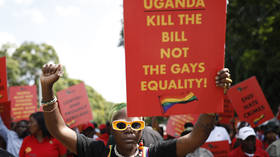 The African continent should lead the way in "sav[ing] the world" from homosexuality, Ugandan President Yoweri Museveni has declared, as he prepares to sign into law an anti-LGBTQ bill passed by the country's parliament last month.
The bill, which Amnesty International has slammed as "appalling" and "vaguely worded," imposes the death penalty for "aggravated homosexuality" and life imprisonment for the "recruitment, promotion, and funding" of same-sex "activities" in Uganda.
The UN high commissioner for human rights has urged the president of the East African country not to sign it into law.
But Museveni insisted on Sunday at the first ever Inter-Parliamentary Conference on Family Values and Sovereignty in the Ugandan city of Entebbe that homosexuality is a major threat to humanity.
"Africa should provide the lead to save the world from this degeneration and decadence, which is really very dangerous for humanity," he said.
"If people of opposite sex stop appreciating one another then how will the human race be propagated?" he inquired while interacting with lawmakers from 22 African countries and the UK who had gathered for the two-day conference.
Museveni said the existence of so-called conversion therapy meant that "homosexuality is reversible and curable" and that it "should not be preserved or propagated," but rather "confined."
The president of the east African nation also assured the gathering that there will be no comprehensive sexuality education in Uganda, saying that children "need to grow as children."
One LGBTQ activist who attended the conference anonymously via Zoom said African leaders were aiming to "reject American influence" and trying to come up with an "African strategy to fight homosexuality."
You can share this story on social media: