Former colony bans French state TV
Burkina Faso's military government accused France24 of "legitimizing" terrorism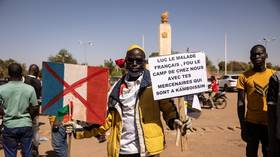 Burkina Faso's military government has banned the France24 TV channel, after it broadcast an interview with the leader of Al Qaeda's North African offshoot. While French and Burkinabe troops recently fought jihadists together, the African nation cut its ties with its former colonizer master this year.
"France 24 is not only acting as a mouthpiece for these terrorists, but worse, it is providing a space for the legitimization of terrorist actions and hate speech," Burkina Faso's minister of communication, Jean-Emmanuel Ouedraogo, said in a statement on Monday.
Earlier this month, the French state-owned broadcaster interviewed Yezid Mebarek, who took the helm of Al Qaeda in the Islamic Maghreb (AQIB) in 2020 after French forces killed his predecessor, Abdelmalek Droukdel, in a raid in neighboring Mali.
France24 said that the statement was based on "unfounded allegations," and that it never gave Mebarek "the floor directly." The channel said in a statement that it reported the terrorist leader's words via one of its journalists.
The dispute comes amid growing dissatisfaction with France in Burkina Faso and the wider Sahel region. French forces have been deployed in West Africa since 2013, and launched numerous anti-terror raids in Burkina Faso until their presence in the country was formalized in a 2018 agreement with Burkinabe authorities.
However, the troops were given one month to leave the country in January, after the Burkinabe military seized power in a coup in October. Earlier this month, the The Burkinabe foreign ministry scrapped a 1961 agreement on military assistance with France, which had been in force since Paris granted the Republic of Upper Volta, as Burkina Faso was previously known, its independence.
A similar situation developed in Mali, with Colonel Assimi Goita ordering the French military to leave his country last year after coming to power in a coup in 2021.
In both nations, anger had grown over France's failure to contain a region-wide jihadist insurgency. Both have since strengthened diplomatic ties with Russia, and looked to Moscow for military assistance in the fight against terrorism.
Burkina Faso also banned broadcasts of Radio France International in December, accusing the French network of false reporting and giving a platform to jihadist groups.
You can share this story on social media: