Winner declared in Nigerian presidential election
Bola Tinubu received the most votes according to the official tally, but opponents claim the process was rigged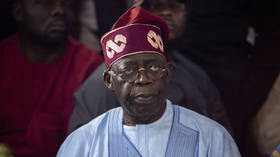 Ruling party candidate Bola Tinubu has been declared the winner of the presidential election in Nigeria, although opposition groups have disputed the results and demanded a new vote.
The Independent National Election Commission (INEC), the body that oversaw the voting process, announced on Wednesday that Tinubu had received more than 25% of the vote in 30 of Nigeria's 36 states, which was enough for victory.
Tinubu, a member of the ruling All Progressives Congress (APC) party and former governor of Lagos state, received over 8.7 million votes in total, according to the official tally.
Atiku Abubakar, a former vice president and Tinubu's main rival, received over 6.9 million votes, while Peter Obi of the Labour Party polled third with more than 6.1 million votes.
The constitution barred current President Muhammadu Buhari from seeking a third term.
Abubakar's Peoples Democratic Party (PDP), together with the Labour Party and the African Democratic Congress, claimed on Tuesday that the election held on February 25 was "irretrievably compromised" and demanded that the results be nullified.
"This election is not free and far from being fair," Labour Party chairman Julius Abure told reporters on behalf of the three parties, while calling on INEC chairman Mahmood Yakubu to resign.
The opposition previously criticized the INEC for lengthy delays in publishing the results from nearly 177,000 polling stations, according to Bloomberg. The organization used an electronic tallying process nationally during Saturday's vote for the first time.
Tinubu warned his opponents and supporters against stoking unrest. "It is your right to seek legal recourse. What is neither right nor defensible is for anybody to resort to violence," said the politician. "Any challenge to the electoral outcome should be made in a court of law, and not in the streets."
After gaining independence from Britain in 1960, Nigeria went through several coups and a bloody civil war. Most recently, the nation of more than 210 million has been plagued by the Islamist Boko Haram insurgency in the northeast, and has also endured cash and fuel shortages, as well as corruption.
You can share this story on social media: