Africa's most populous country goes to the polls
Outgoing Nigerian president Muhammadu Buhari leaves office in May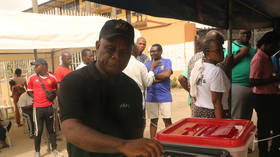 Nigeria has urged international watchdogs not to interfere in its electoral process as Africa's most populous nation headed to the polls on Saturday to elect a successor to President Muhammadu Buhari, in a contest dominated by concerns about inflation and a rise in shortages of cash and fuel.
A field of 18 candidates were on the ballot to replace Buhari, who will complete his second term as the country's leader in May. The Labour Party's Peter Obi, who has made significant inroads in galvanizing the youth vote, is considered a frontrunner, as are Bola Tinubu of the ruling All Progressives Congress (APC) and Atiku Abubakar from the primary opposition People's Democratic Party (PDP).
Results from the polls, which will also determine lawmakers, governor and state assembly representatives, are expected on Monday.
Voting closed at the country's 176,606 polling stations at 14:30 local time on Saturday, with the election being conducted under the scrutiny of more than 140,000 observers accredited by Nigeria's Independent Electoral Commission (INEC) – whose chairman, Mahmood Yakubu, said they must respect the country's electoral process despite previous claims of election fraud.
"I wish to remind observers that there is a code of conduct for election observation," Yakubu said in advance of the election. "You are by definition, observers, do not interfere with the process or show partisanship. In addition, international observers must be guided by the fact that the election is conducted by and in the federal republic of Nigeria, whose sovereignty must be respected."
Outgoing president Buhari echoed this request, saying that observers must stay within "the limits of your profession."
Inflation has surged to its highest point in almost two decades under Buhari's rule, while a shortage of available cash remains a factor and has led to a currency crisis following a failed strategy designed to swap out old banknotes for new ones – which has led to violence at banks and at cash machines across the country.
The new president will also be tasked with tackling high poverty, energy shortages as well as the issue of rising Islamist insurgency in Nigeria's northeast. Oil theft and increasing crime statistics are also key concerns in the country, which is Africa's biggest economy.
Ongoing fuel shortages, occurring in the top oil producer in Africa, have also led to worries that it may not be possible to deploy election monitors to key areas suspected of potential fraud.
More than 93 million people are registered to vote in Nigeria, around 75% of them aged between 18 and 49. In 2019, it was estimated that voter turnout was just 35%
You can share this story on social media: