Analysts reveal voracious buyers of Russia's oil products – WSJ
North Africa boosts imports of Russian petroleum products, while volumes of oil refining remain the same, the newspaper says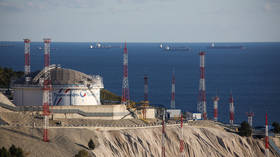 North African nations have sharply increased imports of Russian diesel and other refined oil products, while petrochemical exports from the region have seen a significant uptick, the Wall Street Journal reported on Saturday, citing trading analysts.
Industry experts are reportedly raising concerns that Russian sanctioned cargoes are being blended with other oil products and re-sold. The procedure effectively disguises the ultimate origin of the products, undermining Western states' efforts to oust Russian fossil fuels from their economies.
Imports of Russian diesel by Morocco soared to two million barrels in January compared with some 600,000 barrels recorded during the whole of 2021, according to analysts from commodities market data firm Kpler, who stress that a further 1.2 million barrels will be shipped to the country this month.
Tunisia boosted purchases of Russian diesel, gas oil, gasoline and naphtha, which is traditionally used to make chemicals and plastics, to 2.8 million barrels in January and is projected to import another 3.1 million barrels in February. Kpler also recorded an uptick in imports by Algeria, Egypt and Libya.
The volumes absorbed by North African countries are too much for them to take on their own, according to Viktor Katona, Kpler senior oil analyst, who predicts that some of the Russian products will make their way to Europe.
"Trust me, we are not witnessing some renaissance in Maghrebi refining," Katona told the Wall Street Journal, referring to the region of North Africa
North African ports are seen as convenient for Russian cargoes sailing from the Baltic Sea, as voyages are not much longer than the pre-sanctions trips to European ports. This allows Russia to keep shipping costs low, and prevents its limited fleet of tankers from getting tied up in lengthy voyages to Asia or elsewhere.
"Even if you wanted to regulate that, how would you?" Andreas Economou, head of oil research at The Oxford Institute for Energy Studies, was quoted by the paper as saying. "If a cargo is 51% from Morocco, 49% from Russia, how would you referee that?"
Some of North Africa's increased diesel imports from Russia have displaced the region's typical suppliers in the Middle East and North America, suggesting some of the activity was bargain hunting, Jorge Leon, senior vice president at Rystad Energy, told the newspaper.
Earlier this week, EU sanctions envoy David O'Sullivan told the Financial Times that the bloc and its allies had begun investigating a surge in exports to countries in Russia's neighbourhood. They suspected sanctioned products were entering Russia via the back door.
The EU has introduced 10 rounds of anti-Russia sanctions since the beginning of Moscow's military operation in Ukraine. Kremlin has repeatedly said that the measures, supported by the US and its allies, are illegitimate and ineffective, and that the restrictions cause more damage to the initiators. Russian President Vladimir Putin called the penalties "crazy and thoughtless," saying that no country had previously changed its political course due to sanctions pressure.
For more stories on economy & finance visit RT's business section
You can share this story on social media: