RT CREWS TARGETED IN KIEV SNIPER FIRE
KIEV, FEBRUARY 20, 2014 – Shots were fired at RT crew on the balcony of a hotel in central Kiev as they were readying to go to a live broadcast, hitting a nearby window.
"Now the hotel is in the epicenter in this situation," reported RT correspondent Egor Piskunov. He said that "in the hotel we've had bullets fly into the rooms, especially on the top floors." "Opposition snipers were also hiding behind cameramen on top of our hotel," added RT correspondent Alexey Yaroshevsky, who also sent in the photo below: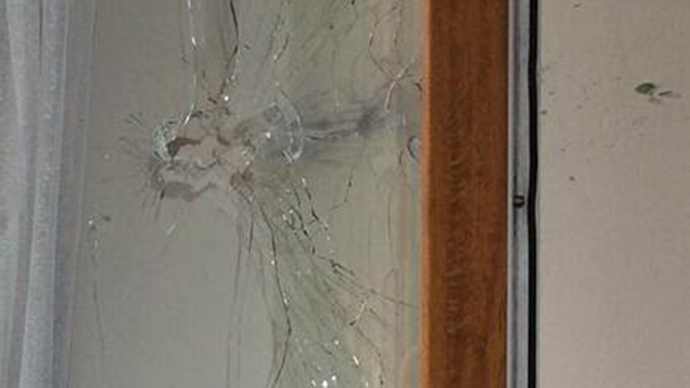 Crews of RT, RT Arabic and RT's video agency RUPTLY are in Kiev covering the Maidan protests. Watch the video here.
Earlier in the day RUPTLY producer Daniil Anisimov was in the 14th floor hallway of the same hotel – Hotel Ukrayina – when suddenly shots were fired through a window. A combat bullet grazed Anisimov's bulletproof vest, and at the moment his health is not at risk. "The bullet nicked my vest and then the camera, before getting lodged in a wall," said Anisimov about the incident.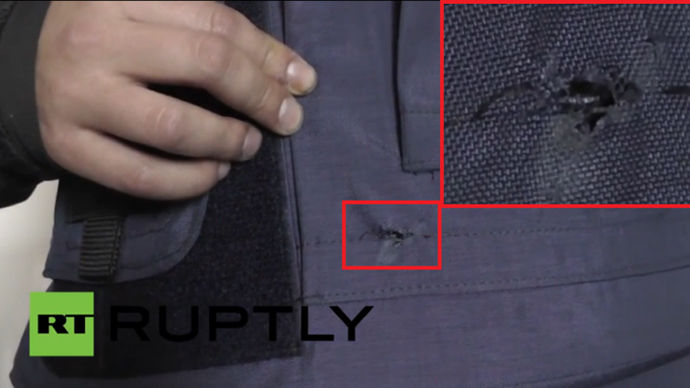 In the early afternoon part of the team working for the RT Arabic news channel was also detained by rioters near Maidan Nezalezhnosti. Three cameramen were surrounded by protesters and had their passports taken away until their release was negotiated by RT producers.
RT is an international news network that broadcasts 24/7 in English, Arabic and Spanish from its studios in Moscow and Washington, DC, and is available to 644 million viewers worldwide. RT is the first TV news channel in history to cross the one billion views mark on YouTube. It is the winner of the Monte Carlo TV Festival Awards for best 24-hr broadcast, and the only Russian TV channel to garner two nominations for the prestigious International Emmy Award for news reporting.
You can share this story on social media: