Bull attacks animal rights activists who invaded bullring (VIDEO)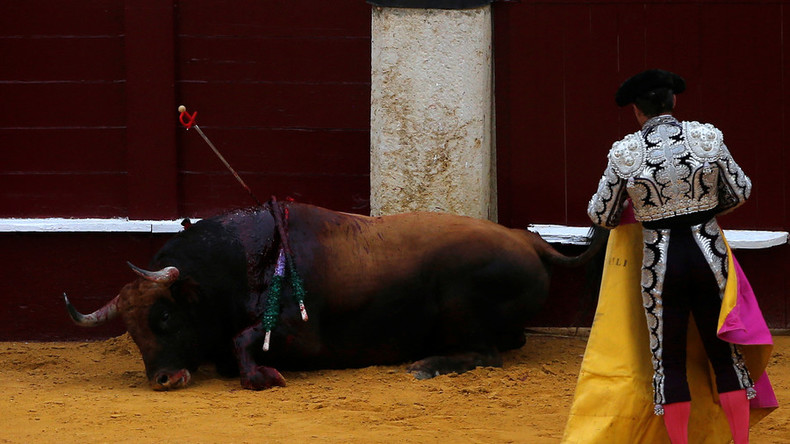 Anti-bullfighting protesters who invaded a ring in France on Sunday found themselves under attack by the animal they were trying to protect. Video shows the activists being chased by the bovine, which then flings one of them into the air.
They were demonstrating against the "novillada," an event where novice bullfighters fight younger bulls, reported AFP, citing L'express. The pair can be seen at around the 07:15 mark of the video jumping over the barrier of the arena, in Carcassonne, southern France.
Both draw the attention of the bull which charges for them before hitting one of them, sending him flying into the air.
Despite a subsequent trampling from the bull, the man in his 30s did not receive serious injuries, according to police. "He was hit by the horn but it did not penetrate," they said.
The bull was then drawn away by the matadors, allowing the injured man to be retrieved. The bullfight continues for several minutes before the animal is eventually killed. The second protester was not injured.
Earlier in the day a banner was hung in the city calling for the abolition of bullfighting. The activity is illegal in France except for regions where it has been a tradition, including towns like Carcassonne and Béziers. In 2015 France removed bullfighting from its cultural heritage list.