Vegan activists strip off for 'bloody' London protest (VIDEO)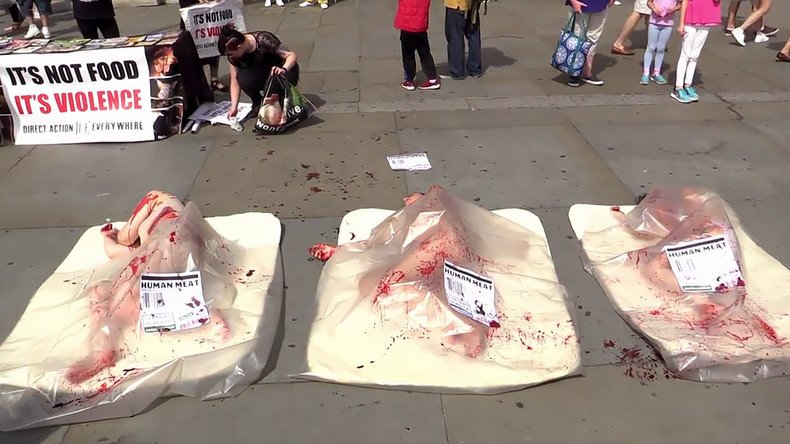 Vegan activists have staged a grisly-looking protest involving members of the anti-meat group smothering themselves in fake blood in London's Trafalgar Square.
Supporters of Direction Action Everywhere turned out in central London to urge people to give up the consumption of animals.
The protest, part of a global protest to end "speciesism", involved activists lying down covered in plastic wrap and fake blood to resemble meat sold in a supermarket.
Sister protests were also planned for Brazil, Canada, Germany, Peru and the US.
"We as vegans want to show other people that there is a compassionate way to live and how to treat animals," said one protester.
"We want to stop this animal cruelty – stop the meat trade, the fur trade, the leather trade. We want to show people that there is a way of living without animal products."
Footage shows three Direction Action Everywhere supporters lying prone, semi-naked and doused in blood in front of the National Gallery. A number of messages are posted nearby, including one reading: "It's not food, it's violence."
In 2014, PETA mounted a similar protest on World Vegan Day. Displaying their opposition to the meat and fishing industry, around 100 people laid naked in a heap in Trafalgar Square on November 1.
You can share this story on social media: