Saudi police probe viral video of woman driving (VIDEO)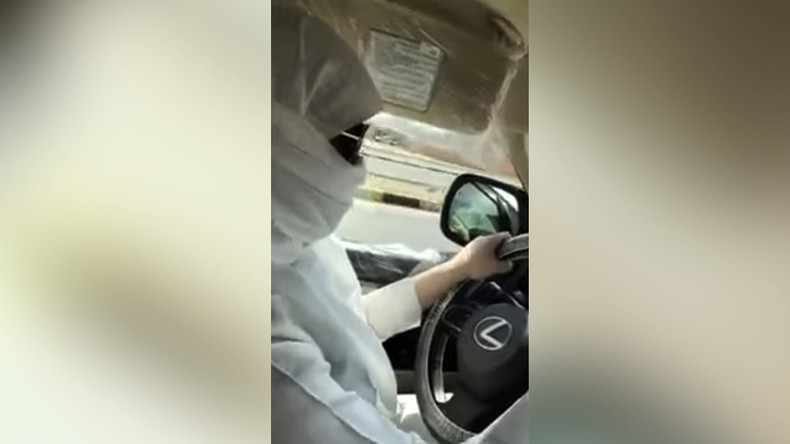 Police in Saudi Arabia have launched an investigation into an online video that appears to show a woman driving a car while disguised as a man.
Authorities in Al Khafji in Saudi Arabia's Eastern Province identified the owner of the car, along with three other suspects, after the video of a woman in dark sunglasses, headdress and traditional thobe gown driving on a street appeared online earlier this week.
The car's owner did not make himself available for questioning until two days after the first request by police, according to Gulf News.
Speaking to the news website, Ziyad Al Raqiti, spokesperson for the Eastern Province police, said: "Police experts upon viewing the video identified the car owner as a Saudi national in his 40s. He was summoned, but he did not respond. However, he later came to the police and he was referred to the public prosecution."
Two men and two women have since been questioned in relation to the incident.Because Saudi Arabia has not officially banned women from driving – authorities don't issue licenses and religious leaders have issued edicts against it – the investigation is thought to center around the relationship between the group. In Saudi Arabia, it is illegal to mix with unrelated members of the opposite sex.
Women have been jailed for flouting religious rules around driving in the past.
In December 2014, two female Saudi activists were arrested and jailed for 73 days after attempting to defy the ban.
The first organized protest took place in 1990 when around 48 women drove their cars in the capital, Riyadh. They were later arrested and had their passports confiscated.
Equality activists have been encouraged of late, however.
Last November, Saudi prince Alwaleed bin Talal urged for the country to allow women to drive, saying: "Preventing a woman from driving a car is today an issue of rights similar to the one that forbade her from receiving an education or having an independent identity."