Clinton says Trump's debate pacing 'made her skin crawl'
Published time: 23 Aug, 2017 21:53
Edited time: 24 Aug, 2017 08:52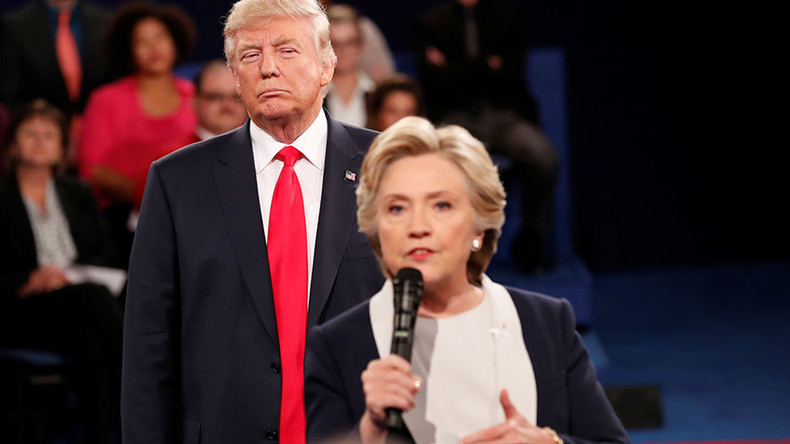 Almost a year since losing the 2016 presidential election, Hillary Clinton has re-emerged to reveal President Donald Trump made her skin crawl during a debate, in an extract from her upcoming book.
Recorded extracts of the book, "What Happened," read by Clinton, were played on MSNBC's Morning Joe on Wednesday.
Clinton detailed her experience during the October presidential debate at Washington University in St Louis, in which Trump followed her around the stage in an apparent effort to make Clinton uncomfortable – or simply to remain on camera.
"'This is not okay,' I thought," Clinton said, describing Trump "looming behind" her. "Two days before the world heard about him grabbing women, now we were on a small stage, and no matter where I walked, he followed me closely, staring at me, making faces."
READ MORE:'Grab them by the p***y': Leaked audio of Trump causes GOP backlash
Clinton was referring to the Access Hollywood tapes, recordings made several years earlier of Trump boasting to a reality TV producer about his ways of dealing with women, including the infamous phrase "grab them by the p*ssy."
On the same day that NBC published the tape, the first batch of emails from the account of Clinton campaign chair John Podesta were published by WikiLeaks. The Podesta emails releases would continue until Election Day.
"He was literally breathing down my neck," Clinton said of the debate. "My skin crawled."
"It was one of those moments where you wish you could hit pause and ask everyone watching, well, what would you do?" Clinton wrote. "Do you stay calm, keep smiling and carry on as if he weren't repeatedly invading your space? Or do you turn, look him in the eye and say loudly and clearly, 'Back up you creep, get away from me'? I know you love to intimidate women but you can't intimidate me, so back up.'
READ MORE: Blow by blow: Clinton, Trump face off in second debate
"I chose option A. I kept my cool, aided by a lifetime of dealing with men trying to throw me off. I did, however, grip the microphone extra hard," she wrote.
Clinton then pondered what it would have been like to go with the second option, saying it "certainly would have been better TV."
The MSNBC segment included a second recording of Clinton introducing her book, saying, "I don't have all the answers," and "I have too little distance, and too great a stake in it."
The Democrats' presidential candidate was overwhelmingly favored to win the 2016 election, but ended up winning only 2027 Electoral College votes to Trump's 304, despite winning the popular vote. Clinton and the Democrats have blamed the result on "Russian hacking."
"If the Russians could hack my subconscious, they'd have a long list," Clinton concluded.