Penguins with GoPros: Antarctic birds boast specialized calls at sea, study finds (VIDEOS)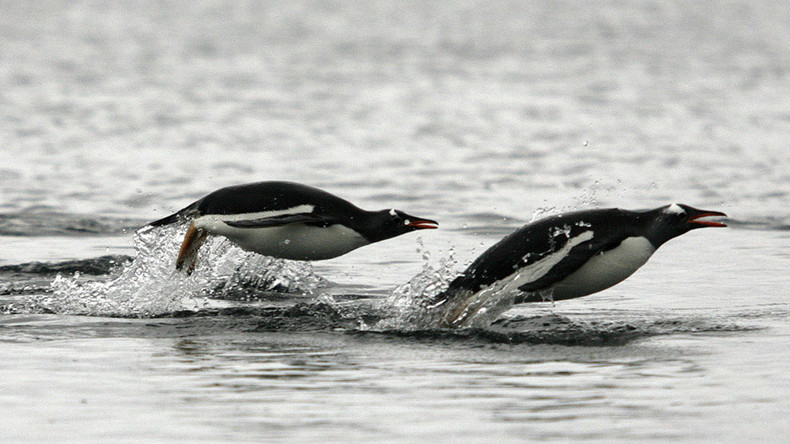 In a world first, researchers strapped GoPro cameras to penguins hunting for food in freezing Antarctic waters to study their offshore vocal behavior.
In contrast to their land-based communication, penguins seafaring chats have been poorly studied due to the relative inaccessibility of the environment – the freezing waters of the Antarctic Ocean.
Amazing videos show penguins in their natural habitat, in stunning detail, and have given the team of scientists an insight into the communication skills of the flightless birds.
(Video credit: Won Young Lee)
The penguins in question are a breed known as gentoo penguins which stand around 90cm tall (3ft) and weigh around 8.5kg (19lb). They are the third largest of the penguin species and, like many of their relatives, live in massive colonies up to 600,000-strong.
Over two breeding seasons Won Young Lee, from the Korea Polar Research Institute, and his colleagues used GoPro cameras to record a total of 598 penguin calls, from 26 birds, off the shores of Antarctica's King George Island.
(Video credit: Won Young Lee)
They then studied the videos to discover the reason for each bird's distinctive calls.
"We showed that gentoo penguins produced offshore calls and many individuals formed groups with the calls in the open ocean. These results generally support the hypothesis that the offshore call is related to group association during foraging trips," the researchers wrote in the journal Nature.
(Video credit: Won Young Lee)
"In general, the penguin calls that we analysed were produced by lone individuals, and no vocal interactions with closely neighbouring individuals were recorded in our video-recordings.
"The absence of vocal interaction among neighbouring individuals may suggest that the function of the offshore call is more likely about group formation, not interaction among members in a pre-formed group," the team added.