Vision of the future? Mercedes-Benz teases luxury electric car (VIDEO)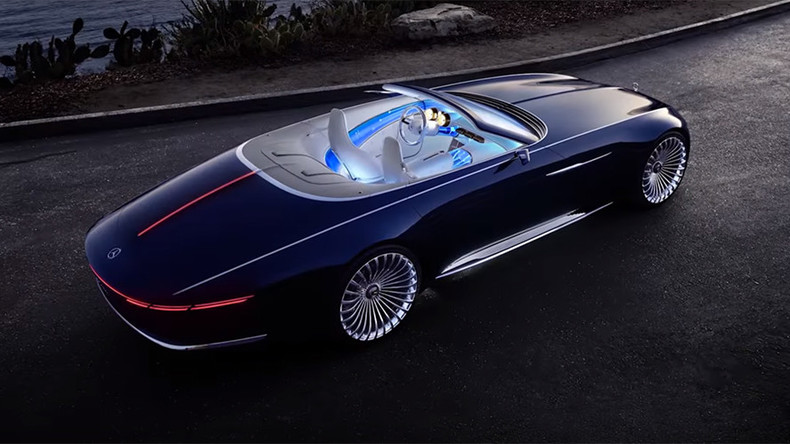 Mercedes-Benz has revealed its luxurious vision for the future – a sleek electric car with intelligent navigation and a "haute couture" finish.
The super-stylish Vision Mercedes-Maybach 6 Cabriolet was unveiled Friday at Monterey Car Week in California, as the car brand's latest concept design.
The chic two-seater, described by Mercedes-Benz as "automotive haute couture," boasts "crystal white" leather seats interwoven with rose gold threads.
Each individual button of the quilting depicts a delicate Mercedes star, backlit in blue, adding a futuristic interpretation to the traditional seat upholstery.
Stretching almost six meters (20 feet) in length, the nautical blue metallic colored Cabriolet has a curved body and an extremely long bonnet which the company says mirrors a luxury yacht.
https://www.rt.com/viral/388265-bentley-leather-vegan-jellyfish/
The electric engine has an output of 750 horsepower and a top speed of 250 kmh.
The flat battery sits in the underbody, and can charge up enough power to run for an additional 100 kilometers in just five minutes.
This sleek and futuristic model is sadly just a concept for now and is unlikely to ever reach series production, however it does present a basis for the design of all-electric, super luxury cars down the line.
Mercedes announced the discontinuation of its only electric car on the market last month – only 3,651 of the B-class Electric Drive were sold since going on sale in December 2013.
Parent company Daimler AG, however, said it will invest more than $11 billion to bring at least 10 new electric cars to market by 2022.