Spanish border guard suffers horrific leg break tackling migrant (VIDEO)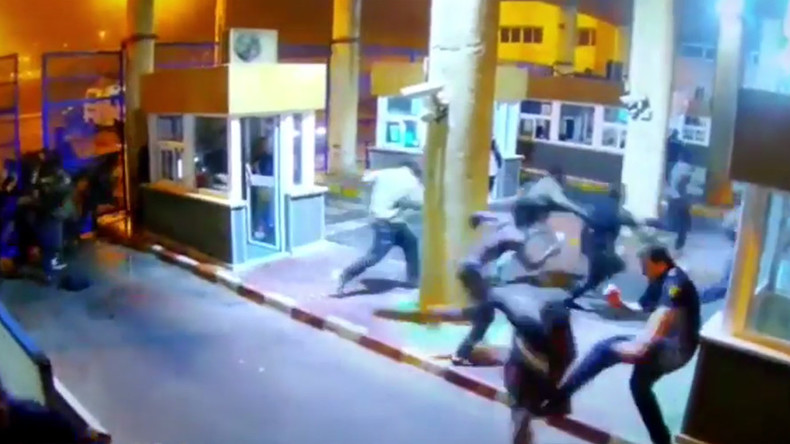 A Spanish border guard suffered a shocking leg break while attempting to stop migrants bursting through the Moroccan border in the city of Ceuta.
The incident took place on Sunday night at the El Tarajal border crossing in the Spanish city on coast of northern Africa. Security footage of the incident was posted online by local news outlet El Faro Ceuta.
The video shows a large group of people forcing their way through a gate and racing past border guards. Two guards attempt to tackle them, but the flow of bodies only increases.
One of the guards kicks out at people as they race past while another swings with his baton. While trying to tackle one of the migrants, the first officer suffers a sickening leg break. The video footage shows his leg hanging limply with the bone apparently snapped.
El Faro Ceuta report that he broke both of his tibia bones in the incident and has subsequently undergone an operation.
According to El Pais, the government delegate in Ceuta, Nicolás Fernández Curucull, blamed the guard's injuries on "the violent attitude" of the migrants who "overwhelmed the agents."
In total, more than 100 migrants managed to pass through the gate. Many more managed to scale the border fence and the Red Cross told Reuters that 186 people in total managed to cross into Ceuta during the night.
Other footage filmed in the early hours of Monday morning shows dozens of migrants celebrating after they successfully entered Spain.
Ceuta Red Cross posted on Twitter that they had provided medical assistance to 300 people during the course of the night.
La ERIE de Ayuda Humanitaria a Inmigrantes se encuentra activada para atender a un grupo de personas (sobre 300) que ha entrado en Ceuta

— Cruz Roja Ceuta (@CruzRojaCeuta) August 7, 2017
Ceuta and the nearby enclave of Melilla are the land borders between the EU and the African continent. It has seen numerous mass crossings in recent years as migrants attempt to access mainland Europe.
In January 1,100 people stormed the border, injuring at least 50 Moroccan and Spanish border guards. The government described that incident as "organized and violent."
Similar incidents took place in February, and in December and October of last year, when hundreds more people managed to breach the border.
As recently as last week 70 people managed to cross the border into the Spanish enclave which is protected by a 6-meter-high fence that is topped with barbed wire.
The Red Cross told Reuters that it has attended 7,400 migrants crossing into mainland Spain and Ceuta and Melilla so far this year, up from 3,600 in the same period a year ago.