Moby Dick returns? Humpback whale smashes fishing boat & crew into the air
Published time: 7 Aug, 2017 11:59
Edited time: 8 Aug, 2017 12:17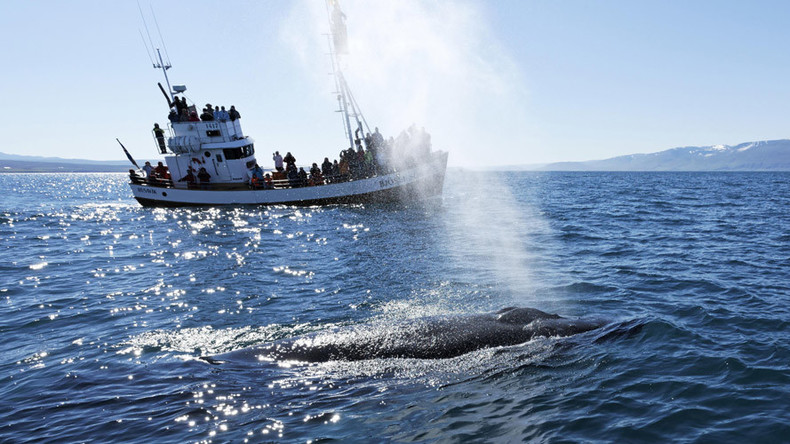 A massive humpback whale crashed into a charter fishing boat in Queensland, sending it flying into the air and leaving four passengers with head injuries, facial fractures and broken ribs.
The boat was returning to shore in the Whitsundays off the coast of Queensland on Saturday when the whale rammed the vessel from underneath, sending it into the air.
"Within a split second everyone was just down on the ground, we didn't know what had happened," captain Oliver Galea told the local Townsville Bulletin newspaper. "I've hit my head on the front rail. Mark, the man next to me, was unconscious. It all happened so fast, it was a freak accident."
Galea was left with a split head that exposed his skull, the daily reported. He shared images of his injuries on Facebook (Warning, graphic photographs). One of the passengers was knocked unconscious and suffered facial fractures, another man broke his nose, and another fractured two ribs.
"When we were all getting off the floor, one of the people saw a whale in the distance," Galea told the Brisbane Times. "This one came up under the boat at the same time as we were crossing, he threw the boat upwards and sideways."
"I'm thinking it was about three times the size [of the boat]," he said.
The passengers weren't the only ones to feel the results of the whale's strength, as the boat was also damaged.
"I have a big dent in the left-hand side," Galea said. "Lucky it is an aluminum boat, if it was fiberglass it would have cracked it."
The Whitsunday Times reports one of the engines was "decommissioned" as a result of the impact.
The four injured were taken to Poserpine Hospital for treatment. The passenger who suffered facial fractures was originally thought to have a spinal injury, but was cleared in hospital. Galea received eight stitches.
"At first we all sort of panicked (but) we'll be back out on the water by the end of the week," Galea said. "We were lucky we didn't capsize or get thrown over."