Hot wheels: UAE temperatures so high cars are bursting into flames (VIDEOS)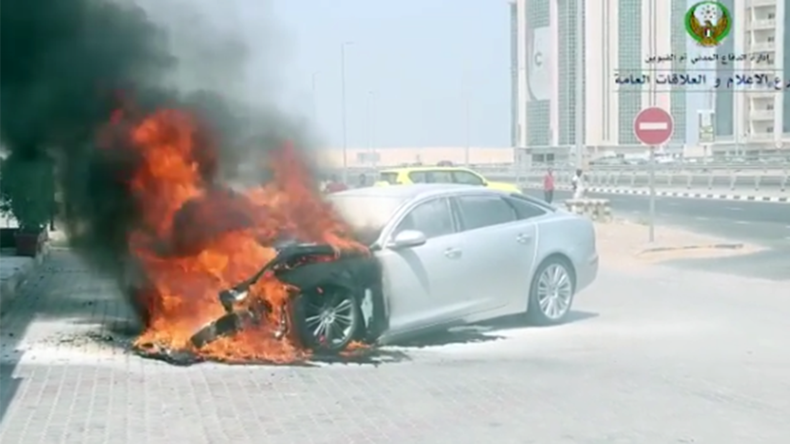 Soaring temperatures in the United Arab Emirates (UAE) have caused seven vehicles to burst into flames in the past two months. The civil defense are urging drivers to ensure their cars are maintained properly to prevent fire damage.
On Wednesday, a parked car burst into flames in Umm Al Quwain, reports the Khaleej Times. Video posted to the UAQ Civil Defence Instagram account shows firefighters arriving at the scene to extinguish the burning vehicle in 40-degree heat (104 degrees Fahrenheit).
Director of the UAQ civil defense department, Col Hassan Ali Mohammed bin Sarm, told reporters the case had been "referred to the legal authorities concerned for legal action."
The fire is the seventh such incident in the last two months, with one truck catching fire while it was in transit. The driver lost control of the vehicle, veering off the road before flipping the truck several times.
A video posted to the UAE Civil Defence Instagram advises drivers on how to avoid vehicular fires with flammable objects left inside cars and poor maintenance called out as the main offenders.
Last month, Colonel Sami Khamis Al Naqbi, director-general of Sharjah Civil Defence, told Gulf News that human negligence was also a factor, with illegal modifications and improper maintenance of vehicle electronics also playing a significant role in the outbreak of vehicular combustion.
He also claimed collisions could play a role, saying: "Vehicles involved in an accident can catch fire if the collision affects the fuel-related parts of the vehicle or if there is an electrical spark in the engine which ignites leaking fuel."
You can share this story on social media: