Satellite captures dramatic scale of North American wildfires (PHOTOS, VIDEO)
Published time: 2 Aug, 2017 20:14
Edited time: 3 Aug, 2017 09:03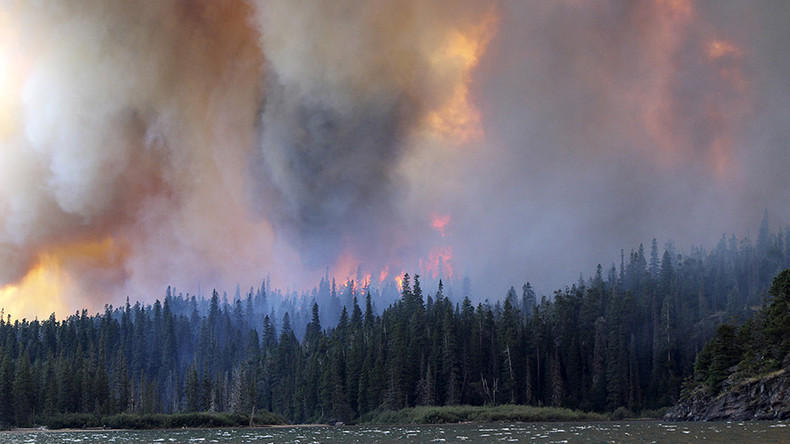 As Montana continues to be hit by some of the most intense wildfires in the state's history, satellite images released by the US government show the true scale of blazes.
A number of 'extreme' fire warnings have been issued in the state since late June, with an estimated 578 square miles of land destroyed in areas around Missoula City, Garfield and Montana's Petroleum County, reports ABC News.
The largest fire has spread across western Montana in an area known as the Lodgepole Complex, and is the worst in the state since 1910, according to the National Interagency Fire Center.
Hazardous conditions experienced on the ground prompted Montana Governor Steve Bullock to declare an emergency on July 23, in an effort to acquire additional state resources to fight the fires.
Funds to tackle the problem appear to be dwindling, however, with Montana's Department of Natural Resources and Conservation reporting that it has already spent the bulk of its $63 million firefighting budget.
Images released by the US National Oceanic and Atmospheric Administration reveal fires burning in the west of Montana intensified between July 31 and August 1.
Captured by the agency's GOES-16 weather satellite, the pictures from space also depict fires in nearby state of Idaho and Canada's British Columbia.
Approximately 10 square miles of land is currently under threat in Idaho, report InciWeb, a US interagency site concerned with wildfires.
Meanwhile, around 151 fires have been burning in British Columbia, Canada, since July.
On Tuesday, the government of British Columbia announced that fire suppression in Harrop Creek had been disrupted by the theft of a water pump and hosepipe equipment.