'Cigarette boat' captain helps extinguish blaze as wildfires ravage British Columbia (VIDEOS)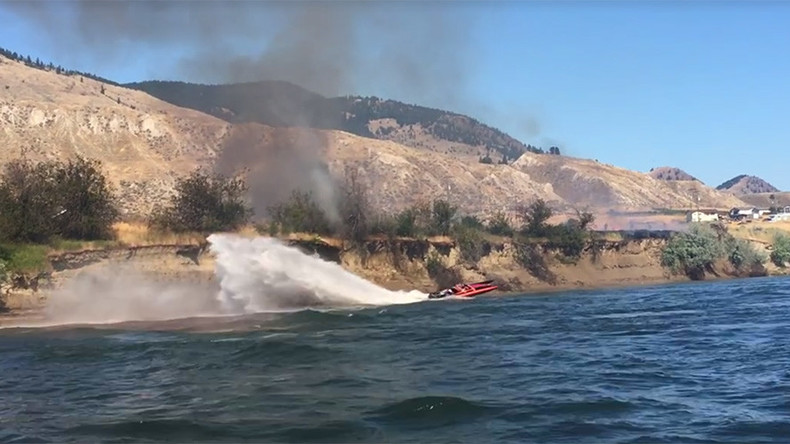 As wildfires continue to plague residents in British Columbia, Canada, ordinary citizens find themselves in dangerous, unpredictable situations like one quick-thinking cigarette boat pilot who possibly saved the day using some fancy aquatic maneuvers.
Lorrie Jane Arnott was enjoying the sun while boating on the Thompson River, near Kamloops, BC Saturday afternoon when she noticed a bushfire spreading along the water's edge near the East Shuswap Road.
Suddenly, a so-called "cigarette boat" (a 1987 Eliminator Scorpion jet boat) she had seen earlier in the day, screamed past and began circling near the blaze, blasting huge "rooster tails" of water into the air to help extinguish the fire.
"Only a boat like that could have done that, we were on a regular ski boat but his is a "cigarette boat" that creates what's called a "rooster tail." It was very lucky he was there at the right time," Arnott told RT.
"The ironic part is, we are all pretty sure it was a cigarette that caused the fire in the first place."
The boat was piloted by Koyne Watson, 43 and Tasha Hunt, 33. The engaged couple, who were reportedly test-driving their boat at the time the fire started, are now being hailed as local heros.
"We probably did it about eight times," Hunt said in an interview with Kamloops This Week. "But I think we probably only did about four or five direct hits."
Arnott spoke briefly with the boater in the immediate aftermath of the firefighting operation.
"Did we get it?" the boat's pilot Watson asked Arnott, as cited by Global News. "You guys nailed it," she told him.
"It could have spread but he nailed it a few times with the spray… It definitely made a big difference," Arnott added.
Unfortunately for Watson, no good deed goes unpunished.
"He damaged his boat engine in the process," Arnott said.
Meanwhile, authorities across British Columbia are continuing to battle an outgoing outbreak of wildfires that has ravaged the province all summer.