Russian artist transforms dead animals' skulls into mesmerizing artwork (PHOTOS)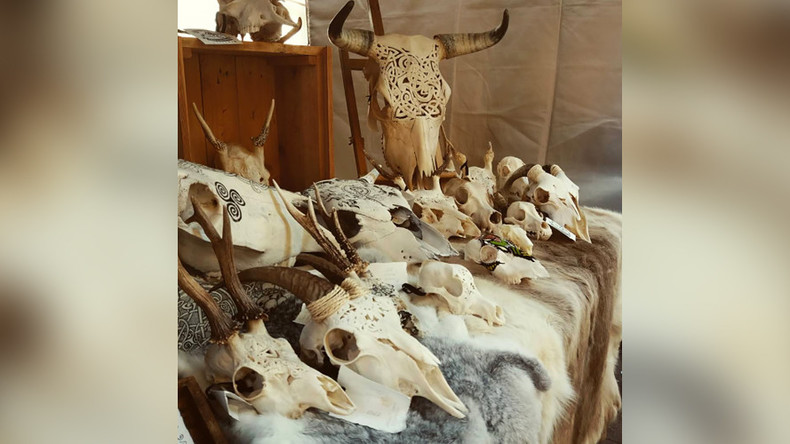 Anora Ashurova is not a big fan of traditional art forms. Instead of painting on a canvas, she paints the skulls of dead animals and sells her creations to unconventional art lovers.
Ashurova, from Ekaterinburg, in Russia's Ural region, majored in architecture but felt she needed to broaden her creative horizons in a different cultural setting. She then went to Spain to study arts at the University of Madrid.
Now the artist lives in Oviedo where she and her husband Raul run an art studio.
Ashurova teaches fine arts to children, but when the kids go home, she paints the skulls of dead animals and sells her artworks to eager enthusiasts.
"No designer has yet managed to create something more perfect, functional and aesthetic than a bone," Ashurova says.
Her compulsion to create art is total. She sees everything as a potential canvas.
"We've always kept some heads around: those of dead enemies – to scare off new enemies those of the deceased family members, to stay forever with us, and those of defeated animals to show off our power," Ashurova said.
"Now, in the age of plastic and Chinese technology, basic materials finally became a thing of the past. But it's what happens in the cities. As for me, I'm lucky enough to live in a civilization surrounded by forests and fields, where people still make a living by farming and are riding donkeys," the artist said in an interview with The Village daily Friday.
"Skulls can be cut, painted, decorated with stones. You can screw the bulb on and use it as a lamp. You can just hang it on the wall, snap a picture and collect likes on Instagram," says Ashurova.
"Now, to start with, you need to clean the skull. For this, in turn, you need to actually find a skull."
"Each country has its own kind of laws. In Spain, any farm, a veterinarian or national park is required to give the corpse or animal remains to a special firm that will burn them. Nevertheless, the material can be [also] requested from individuals who are engaged in cattle breeding. Taxidermists, who get rid of skulls, can also help: to make scarecrows they only need a skin," she explains.
"Sometimes I take a walk in the woods: where there are steep cliffs, waterfalls and where wolves live, there are always a lot of dead wild animals. Sometimes the sea brings you some finds. One time, a dolphin washed ashore after a storm, but it later turned out that it was about three meters long and weighed a little up to a ton."
Ashurova says that if the skull gets to her already clean – she is on cloud nine and would "dance on the table" as the longest and most inelegant work is already done.
"To make a carving, you first need to indent a pattern. You can draw with a pencil or make a print with carbon paper. When the drawing is done, I take the threading tool. Or you can take an old typewriter from a dentist…"