Dragged to death: Footage of shark tied to speedboat sparks criminal probe (VIDEO)
Published time: 26 Jul, 2017 20:03
Edited time: 27 Jul, 2017 10:10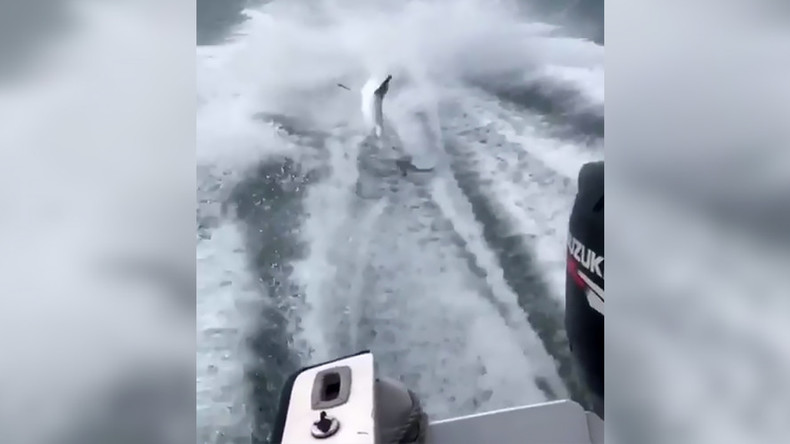 A disturbing video of a shark being dragged to death while tied to the back of a speeding boat is now under investigation by a US conservation group.
The shocking footage shows the shark, tied to the boat by its tail, flailing around in the water as it's dragged along the sea. Three men are seen laughing at the fish, while one can be heard saying: "Look, it's already almost dead."
WARNING: Some viewers may find this video distressing.
READ MORE: Florida man stabs dog to death 'because it always took girlfriend's side' – reports
The video went viral after two of the men sent the video to a local South Florida shark hunter known online as 'Mark the Shark'. Mark said they sent him the footage looking for praise.
Mark said he was "horrified" by the video's contents which has amassed over 50,000 views and 1,400 outraged comments since being reposted Monday. The shark hunter was also later sent a picture of the dead animal's ripped-open carcass held up like a trophy catch.
READ MORE: US Postal worker charged with feeding dog nail-laced meatballs suspended
Mark notified the Florida Fish and Wildlife Commission (FWC) who say their law enforcement division is investigating the footage. The conservation group has asked for help from anyone who might have more information.
"The FWC has been alerted to a video circulating on multiple social media sites showing a group of individuals traveling at high speed on the water dragging a shark behind the vessel," said the organization in a statement.
"The FWC takes this very seriously and is currently investigation this incident. We are also attempting to identify the individuals in the video and where it took place."