'You will be avenged, comrade!' Sudden death of Russian Revolution blogger shocks #1917LIVE universe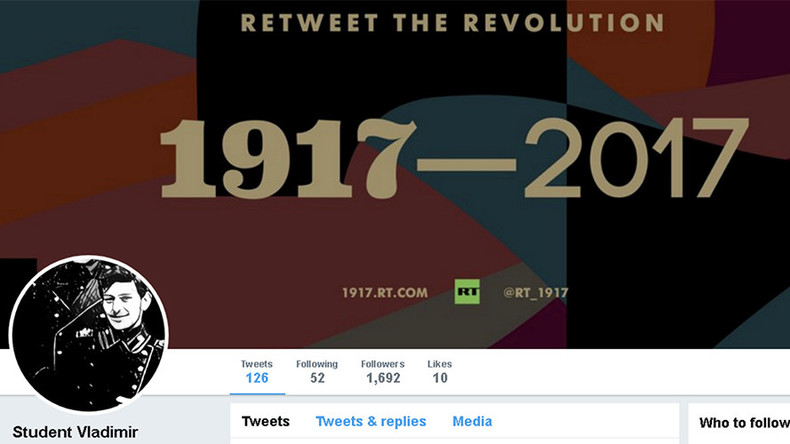 Twitter is in shock after a fictional character from RT's interactive #1917LIVE project, which revives the events of the Russian Revolution, was killed during mass protests in the Russian capital.
Fiction met reality as RT played out the turbulent events of July 1917 in Petrograd (St. Petersburg) when thousands of mostly pro-Bolshevik workers and soldiers took to the streets to protest the Provisional Government, which has been ruling Russia since the fall of monarchy a few months earlier.
READ MORE: #1917LIVE: 500,000-strong anti-govt rally turns violent in Russian capital, mass casualties reported
Vladimir Khlebtsevich, a student of math, found himself at the center of events.
His friend lost track of him in the crowd.
Reports said he was shot by a stray bullet on Liteyniy Prospect.
Then, as the news broke that @StudentVlad1917 had been found dead, other characters joined in, breathing life into events long gone.
Bringing a youthful perspective to the tumultuous events of 1917, student Vladimir helped #1917LIVE make history feel real.
The character was based on a real man, a math student at Petrograd University.
In reality, just as his character, he was caught in the revolutionary currents of the day and fell victim to the revolution. But unlike his Twitter character, Khlebtsevitch was killed a bit earlier: in March that same year. He didn't live to be 23.
His body was transported from St. Petersburg to his parents in Syzran, on the Volga River.
A massive funeral was held there to honor Vladimir's revolutionary path. One of Syzran's streets now bears his name.
Twitter followers' reaction to Vladimir's untimely demise can compete with that of the loss of a favorite TV series character.
#1917LIVE is RT's interactive project that helps you relive the Russian Revolution day by day in real time. Readers can join the reenactment on Twitter and adopt the character of their favorite historical figure, using the #1917CROWD hashtag.