Tennis star Clijsters invites heckler on court at Wimbledon (VIDEO)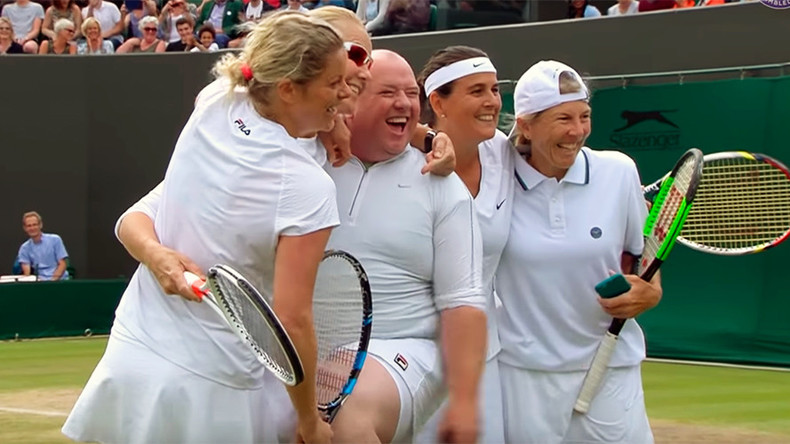 Tennis fans watching a friendly match at Wimbledon were treated to some unexpected play when a male heckler was invited to put his own advice into practice and take on former professional Kim Clijsters.
Clijsters was playing in an invitational doubles match Friday, when a spectator shouted that she should attempt a serve into the body of her opponent.
Responding to the request, Clijsters, who retired professionally in 2012, joked that he should try returning a 'body serve'.
The former US and Australian Open champion then plucked the cheeky tennis fan from the crowd, before trussing him up in a white skirt and t-shirt to comply with Wimbledon's strict dress code.
With the crowd cheering him on, the fan, identified as Irishman Chris Quinn, managed to return a serve, much to the amusement of Clijsters.
Well its not everyday I get to share Wimbledon headlines with roger federer. I'll take it!!

— chris (@chrisquinnirl) July 15, 2017
After the brief, and bizarre, stop in play, Quinn then posed for photographs in his newly-acquired tennis attire before returning to his seat.
"I need a new tennis outfit now I guess…. Definitely a man's one this time," Quinn said on Facebook. "Got to keep the skirt too."
Clijsters has since praised her surprise opponent for his good form.
You were awesome! Nice meeting you Chris ! :-)

— Kim Clijsters (@Clijsterskim) July 15, 2017