MiG-29 fighter pilot ejects from flaming jet during disastrous take-off (VIDEO)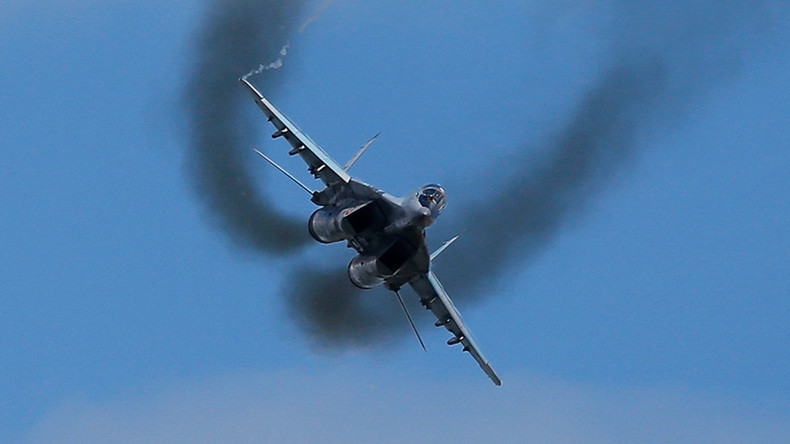 Footage has emerged online of a pilot ejecting from a Russian MiG-29 after the plane caught fire prior to a routine flight in Belarus.
The incident happened at Bobruisk Airport, southeast of Minsk, on February 23 when the engine of the MiG-29 burst into flames as it accelerated down the runway. The video of the event has just recently emerged.
READ MORE: Fighter jets supreme: Watch Russian teams' aerobatic moves in gorgeous 360 (VIDEO)
In the footage, the powerful jet is about to take off when flames are seen shooting from its engines. The landing gear then collapses, leaving the aircraft careening along the runway.
As the flames grow, the pilot suddenly ejects, parachuting dramatically out of the cockpit. The aircraft continues on, leaving a raging ball of fire and thick smoke in its wake.
The Belarusian Ministry of Defence has praised the "competent" actions of the pilot.
"No one was hurt. The plane did not leave the territory of the airport," the ministry said in a statement.
The MiG-29 is a twin-engine jet fighter aircraft originally designed in the Soviet Union in the 1970s. It is currently in service in around a dozen countries.
READ MORE: Serbia expects to receive 6 Russian MiG-29 jets in coming weeks – Defense Ministry