Fake suicide attacks, sniper range & attack dogs: Welcome to Israel's 'terror' tourist attraction
Published time: 12 Jul, 2017 22:41
Edited time: 13 Jul, 2017 08:18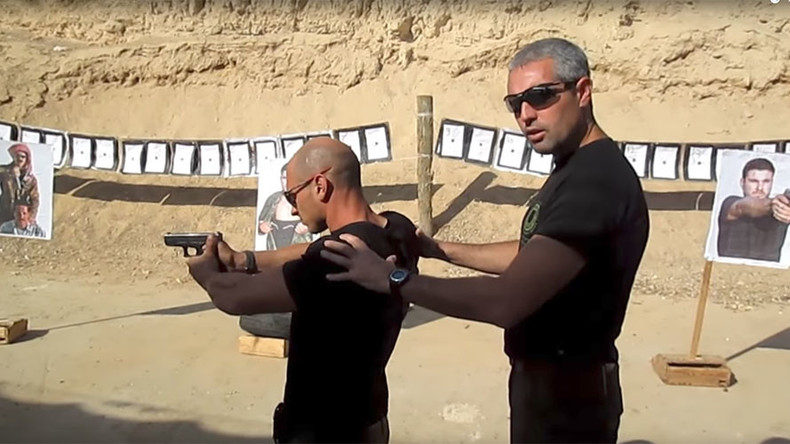 While most people's idea of a holiday includes good food, relaxation and cultural experiences, Israel offers visitors the chance to pretend to kill Arab "terrorists" and experience fake terror attacks.
Nestled in the Israeli settlement bloc of Gush Etzion in the West Bank, near Bethlehem, is Caliber 3, where tourists from around the world can experience a suicide bombing in a Jerusalem marketplace, a stabbing attack, a live demonstration with attack dogs and a sniper tournament.
Caliber 3 takes advantage of Israel's controversial domestic issues to entertain tourists, taking visitors on a two-hour journey that's part macabre entertainment, part propaganda.
"They really got us immersed in what it takes to provide security in a land surrounded by sworn enemies," a participant wrote on Trip Advisor. Footage from the shooting experiences show targets are photographs of menacing looking-Arab "terrorists."
Caliber 3 is one of many Israeli attractions where tourism and military mix. Since being established in 2003 by Israeli Defense Force Colonel Sharon Gat, it has inspired other similar military experiences for tourists in Israel, like the International Security Academy Israel and Zikit Extreme. There is even one such company in the US, Cherev Gidon.
Caliber 3 also runs a three-month long summer camp for teenage boys. It includes three Kosher meals a day, training and lessons on Zionism and survival skills.
According to Gat, between 15,000 and 25,000 tourists visit each year, Haaretz reports. The majority are American Jews, but the camp also sees visitors from China, South America and Russia.
Caliber 3 isn't just targeted at tourists, it also offers professional security training courses, "geared towards military, security and counter terror units and personnel that need to hone their skills and keep up to date with the latest techniques."
Caliber International expands the training to "North and South America," offering "bespoke" training for "private and government agencies all over the world." The site boasts its methods are approved by the IDF, the Israeli Prime Minister's Office and the Israeli Foreign Ministry.
Gat explained his inspiration for starting the camp stemmed from him "wondering whether a Jew in the death camp of Auschwitz could have ever dreamed that an academy like this would ever exist in Israel and that it would train members of the German army."
"And then I said to myself that I am going to open this place to the public to show what a long way the Jewish people have come in 75 years."