Crashed US WWII fighter plane recovered from polar lake after 72 years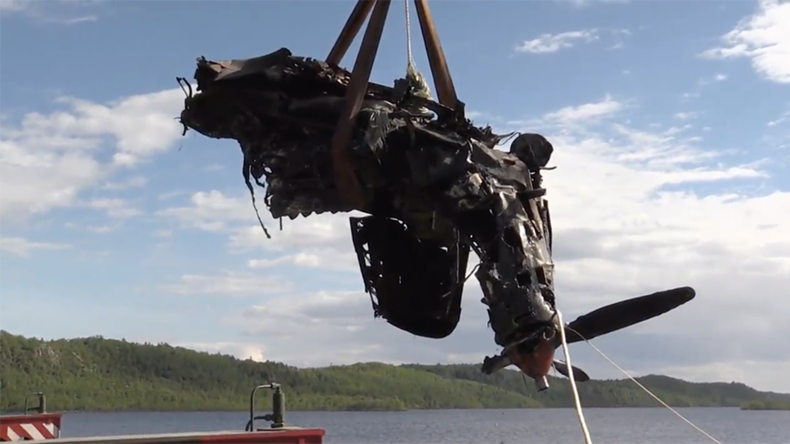 A military diving crew has raised a Bell P-39 Airacobra, a US-made fighter plane beloved by Russian flying aces, from the bottom of a lake near Murmansk in northwest Russia, where it lay for 72 years at a depth of 45 meters.
The plane crashed into frozen Shchukozero lake just two months before Nazi Germany was defeated.
"We can see almost all of the front part of the airplane, including the cockpit and engine, only its tail and right wing are missing," Vice-Admiral Nikolay Evmenov, Commander of Russia's Northern Fleet, stationed in nearby Severomorsk, who oversaw the salvage, told the media.
Although the date of the crash – March 6, 1945 – its coordinates, and the name of the pilot, 26-year-old Lieutenant Fyodor Varavikov, are in the records, experts can only speculate how it occurred, or what happened to the pilot's body.
Varavikov, an experienced pilot, was performing a training flight before likely stalling and spinning downward into the icy water, just kilometers away from a nearby airfield, TASS reports.
The salvagers, operating from a small boat that could be navigated along the narrow waterways leading to the lake, say that they were expecting to locate the skeleton of the fallen airman, but instead found only a fragment of his furry boot in the cockpit.
After raising the carcass of the plane to the surface – an ordeal complicated by poor visibility – experts noted that there was evidence of cuts on the metal, local media report.
It gave rise to speculation that the plane may have been stuck in the March ice that still covered the Polar Circle lake and that his comrades-in-arms may have managed to cut Varavikov out.
The story of the P-39 Airacobra, which was flown by three of the top four Russian flying aces during the war against Nazi Germany, was somewhat underplayed by Soviet propaganda, and remains relatively unknown.
Designed by Bell in the late 1930s, the Airacobra was rejected by Britain's Royal Air Force in 1942 due to its poor performance at high altitude.
But it found popularity on the Eastern Front, where nearly 5,000 of these planes were shipped from the United States to the Soviet Union, as part of the Lend-Lease agreement that provided the USSR with $11.3 billion worth of supplies and equipment - the equivalent of $150 billion nowadays.
Instead of the high-flying Battle of Britain, here most air combat took place under 10,000 ft, where the plane was powerful, maneuverable and liked by pilots because the engine was located behind, not in front of the cabin, which offered a better view and more tolerable temperatures.
You can share this story on social media: