Mile-high fashion: Chinese airline staff don haute couture uniforms (PHOTOS)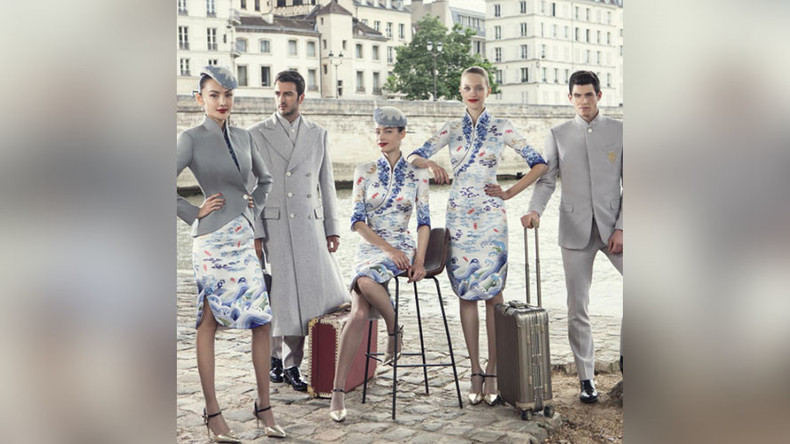 A Chinese airline has put all others to shame with its new haute couture uniforms. Hainan Airlines collaborated with designer Laurence Xu, who unveiled the new uniforms at Paris Couture Week.
Inspired by traditional Chinese dress, Cheongsam, the uniforms incorporate both traditional Chinese art with modern, Western-style looks to create a rather unique look.
"The cooperation between Hainan Airlines and Laurence Xu is industry leading… we would like to let passengers know that China is modern and trendy," Hainan brand director Xu Fei said.
The airline and Xu entered talks two years ago, and more than 1,000 design blueprints and 100 garment samples later, the new uniforms were completed.
"The uniforms feature a collar overlaid with a pattern of auspicious clouds and a lower hem with a pattern alternating sea and mountains which contrasts with the collar's clouds and sky, drawing a comparison between a Hainan aircraft that has just taken off, and the roc, a mythical bird denoting strength, as it lifts into flight," Hainan said in a statement.
"The fusion of traditional Chinese elements and popular international fashion created an Oriental masterpiece that turned heads in Paris."
The uniform's coat reminded many social media users of the Beauxbatons school uniform from Harry Potter.
This isn't the Chinese airline's first foray into blending art and aviation. Last year it partnered with pianist Lang Lang, who played the piano for passengers on one of its flights, while its VIP lounges have been created by designer Dr Patrick Leung.