Seth Rich: Family blasts 'partisan' investigations on 1st anniversary of DNC staffer's death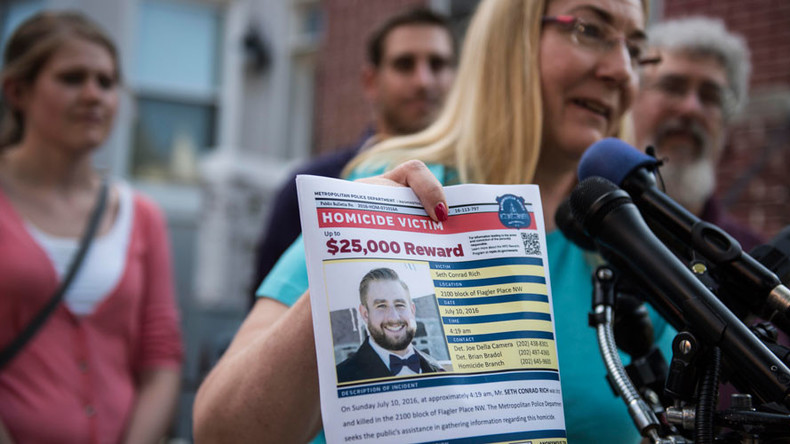 The family of Seth Rich has hit out at people still pursuing unofficial investigations into the death of the Democratic National Committee staffer.
Rich, 27, was shot in the back and fatally injured while walking home in the Bloomingdale neighborhood of Washington D.C. on July 10 last year. The incident, which police investigators believe was a failed robbery attempt, has been a source of speculation among some people who believe the shooting is linked to the leaking of DNC emails.
READ MORE: New Hillary leak: Wikileaks releases 20K DNC emails
In a statement released on the one-year anniversary of Rich's death, the family have pleaded for those investigating the case to "cease using Seth as a political football in predetermined partisan narratives."
The family adds: "The continual push of false and inaccurate information about Seth's death, along with the harassment of Seth's friends, family and co-workers, hurts those who were closest to Seth, and does nothing to bring justice to his killers."
A rally and vigil is being held in Spirit of Justice Park near Capitol Hill to mark the anniversary of the murder.
Rich's death sparked the imaginations of amateur sleuths across the US.
Last month, a group of students from George Washington University known as the 'Profiling Project' released their own independent report into the killing. The report states that the shooting was likely committed by a hired killer.
"It's a possibility," Kevin Doherty, the group's chief investigator, told WJLA. "A proficient killer is what we think, the fact that the killer has gotten away with it for this period of time and that it appears to be a very sanitized crime scene certainly shows some level of proficiency in killing."
The Profiling Project is funded by Republican Lobbyist Jack Burkman.
In May, Fox News was forced into a climbdown after publishing a story to its website claiming an anonymous federal investigator had seen an FBI report which stated that Rich had been in contact with WikiLeaks prior to his death. The network later retracted the story, saying that the "article was not initially subjected to the high degree of editorial scrutiny we require for all our reporting."
At the time, Rich's family responded to speculation about the death in an opinion piece in the Washington Post.
"We have seen no evidence, by any person at any time, that Seth's murder had any connection to his job at the Democratic National Committee or his life in politics," the Rich family said.