Kissing G20 protesters blasted by water cannon during Hamburg clashes (VIDEO)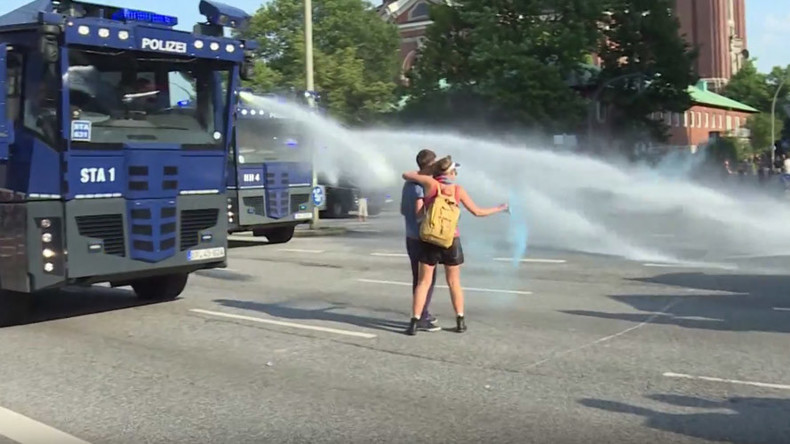 Peace and love were shown to be no match for the power of a police water cannon during G20 protests in Hamburg, as a kissing couple were left thoroughly soaked by a vigorous blast.
READ MORE: 'Welcome to hell': Hamburg burns, G20 protests spiral (PHOTOS, VIDEOS) Live updates
More than 100,000 people took to the streets of Hamburg to demonstrate against the G20 summit of world leaders, with 15,000 police on patrol.
Adding a whole new level of intensity to the idea of throwing cold water on hot passions, the couple felt the full force of the powerful cannon as they were mid-kiss during demonstrations on Friday.
The majority of Friday's protests were peaceful, though incidents of rioting were reported throughout the day. Numerous videos show rioters setting fire to cars and trucks, looting shops, and setting up barricades around the city.
"I have every understanding for peaceful demonstrations but violent demonstrations put human lives in danger," Merkel said.
READ MORE: 'Positive chemistry' between Trump & Putin at first meeting – Tillerson
While rioters and police clashed on the streets, world leaders, including US President Donald Trump and Chinese President Xi Jinping, attended a Beethoven concert in Hamburg's Elbphilharmonie concert hall.
The summit will conclude on Saturday.