Small plane crashes into LA freeway & bursts into flames, leaving 2 injured (VIDEOS, PHOTOS)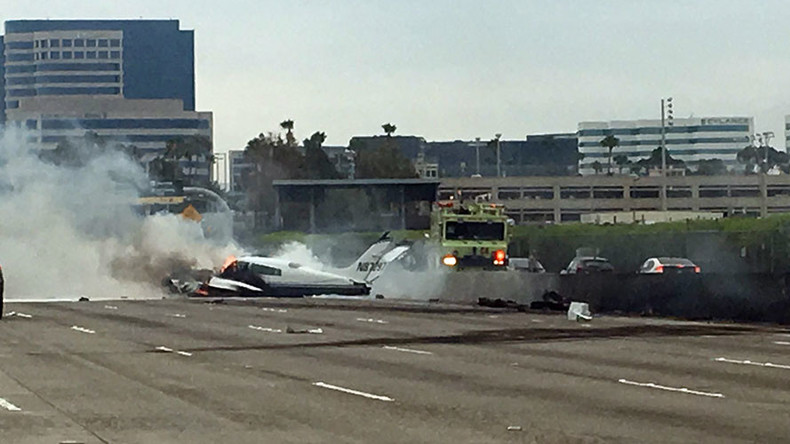 A small aircraft dramatically burst into flames as it crash landed onto the 405 Freeway outside Los Angeles on Friday, leaving two people injured.
The twin engine Cessna-310 plane crash-landed into the southbound lane of the busy freeway shortly after it took off from John Wayne Airport.
"Hey, we got a mayday! We got a mayday!" the pilot said to air traffic control just before the crash. The exchange was captured on a recording of air traffic controller communications, posted on the website LiveATC.net.
Dramatic video captured the moment the small plane crashed onto the freeway and burst into flames.
Other footage from the scene shows the flaming wreckage of the plane in the aftermath of the crash.
A man and woman in their late 50s or early 60s were pulled from the burning aircraft by an off-duty firefighter, Orange County Fire Authority Capt. Larry Kurtz told the media. Both were rushed to hospital. Their names or conditions have not yet been released.
A graphic video circulating online shows the man sprawled across the road, apparently unconscious, in the aftermath of the crash.
The plane hit a blue pickup truck as it smashed into the motorway. The pickup was belonging to an Uber driver with passengers on board. The driver and passengers were reportedly unharmed.
"The fact that a plane was able to land and only strike a single vehicle is extraordinary," Kurtz said.