Driver plows through 100s of people at 'Go Skate Day' event in Brazil (VIDEOS)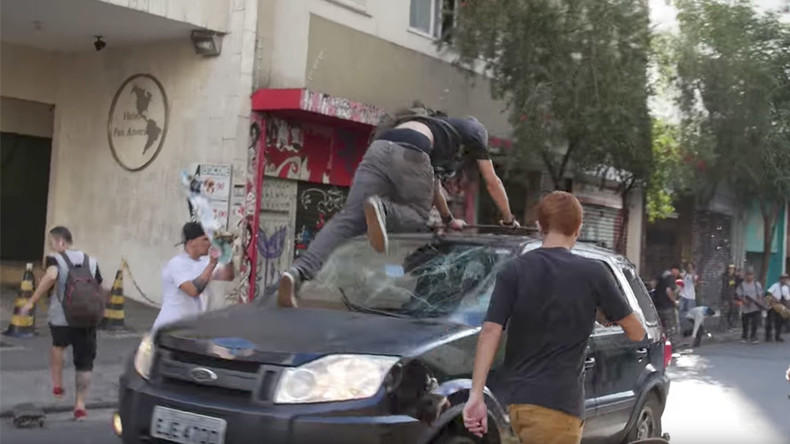 A driver indiscriminately rammed through crowds of skateboarders who packed the city streets on Sunday at an event in Sao Paulo, Brazil.
"Lots of people were running, some guys tried to smash the car, of course. But a lot of people just ran trying to protect themselves while the guy zigzagged trying to hit the crowd," eyewitness Ezequiel Magalhães told El Globo.
Shocking footage shows a Black Ford EcoSport zigzagging through the waves of oncoming skateboarders on Rua Agusta at approximately 10am, June 25. Authorities had cordoned off the area for the event from 9:30am to 12pm.
The videos are the earliest instances that appeared online and were also uploaded by the event organizers themselves.
"The car was dragging the skaters, there were people on top of the hood, they started to scream, to skate away, and when they got up here, the windows [of the car] were already broken," Edgar Victor, another eyewitness, told UOL Daily News.
Multiple injuries were reported after the incident including a fractured leg, though there were no fatalities.
The owner of the car has already been identified through the license plate of the vehicle but the driver responsible has yet to be found.
'Go Skate Day' was held internationally on June 21, but as this was a work day in Brazil, local organizers moved their event to Sunday.
Last year, 15,000 people attended the event, and organizers predicted up to 20,000 participants at this year's event.
The investigation into the incident is ongoing.