Minsk drift: Speeding tank spins & knocks over lamppost in Belarusian capital (VIDEO, PHOTOS)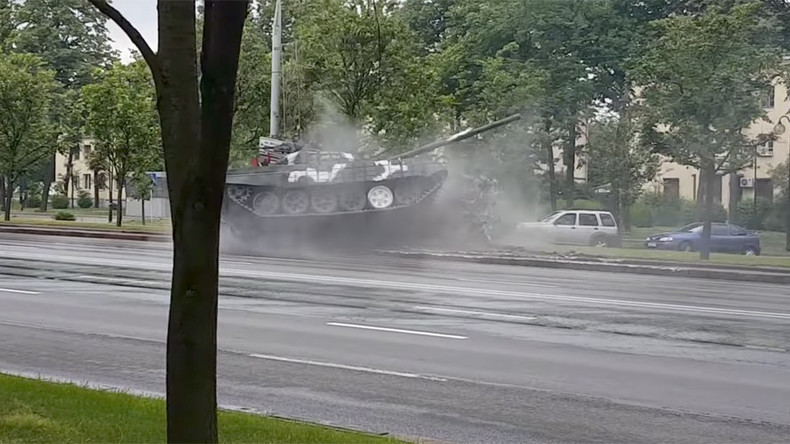 A parade rehearsal in Minsk was suddenly interrupted when one of the tanks in a column spun out at high speed and slid off the road, hitting a tree and a lamppost.
Numerous bystanders captured the moment of the crash, which occurred as the tank was heading towards the capital's center during a parade rehearsal. The video footage shows the clumsy tank accelerating on wet asphalt, as if trying to catch up with the rest of the column, before it sharply spins 180 degrees.
As the tank crashed, it knocked down a tree and a lamppost. It also released a powerline that hit the unfortunate driver. Luckily, the blow apparently wasn't too hard, as the driver can be seen getting off the tank while his bemused comrades pass by.
READ MORE: Nothing unusual, just a T-80 tank overturned near Moscow in road mishap (VIDEOS, PHOTOS)
The accident was blamed on the weather, with the Belarusian Defense Ministry saying that heavy rain and the wet ground had caused the tank to slip.
"A technical check-up proved the vehicle was properly functioning,"said ministry spokesman Vladimir Makarov, who noted that the driver's actions had probably helped prevent even greater damage to the tank, as quoted by Sputnik.
While one would think a 40-ton steel tank wouldn't be easily damaged, the vehicle will need some repair work, as the lamppost left quite a dent in its side armor.
You can share this story on social media: