Korans burned, torn & stuffed with bacon in 2 suspected hate crimes in California
Published time: 25 Jun, 2017 15:29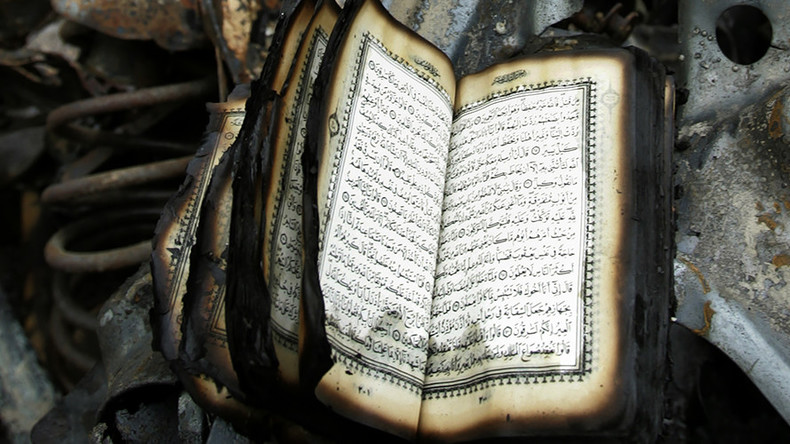 Authorities in California are investigating possible hate crimes carried out against two Islamic centers.
A burned Koran filled with bacon was handcuffed to a fence outside the Masjid Annur Islamic Center in Sacramento, the largest mosque in the area.
The Koran was attached to a temporary fence erected between the Islamic center and the Sacramento County Sheriff's Department Central Division station.
Meanwhile, in a separate incident, pages were torn out of the Koran on Friday and thrown at the Davis Islamic Center during evening prayer.
Police Sergeant Dan Powell told the Davis Enterprise the pages appeared to be printed text from the Koran that were cut into pieces.
CCTV footage showed a light-colored minivan drive past the center with bits of paper seen flying around the vehicle as it passed. Shortly beforehand, a dark blue sedan drove by, and police aren't sure whether the pages were thrown from the minivan or the sedan.
"It's happening way too often," Sergeant Tony Turnbull told CBS Sacramento. "To be targeted like that because of your faith is unacceptable."
Police have reported the incident to the FBI and regional terrorism assessment center. "That's important for these types of incidents," Turnbull explained. "To see if there are connected, if there is a similar person or group."
In January, the Davis Center experienced a hate crime, when Lauren Kirk-Coehlo broke six of the center's windows and left bacon strips on the door handles. Kirk-Coehlo received five years probation last week.
Mohamed Kheiter, the Islamic Center's treasurer told the Davis Enterprise that while he forgave Kirk-Coehlo, he worried her release could inspire similar hate crimes because people would know, "in the end they walk out."
"It gives them the green light to do something like that," he said.
CBS reports the two latest incidents bring the number of attacks on local Islamic centers to six in the last six months. A Stockton and Davis mosque both received hate letters, and a mosque in Roseville was vandalized in February.
After Kirk-Coehlo vandalized the Davis mosque, hundreds in the community gathered to show their solidarity. Following Friday's incident, the group behind the original event, Statement of Love, arranged an event in front of the mosque.
"Our Muslim brothers and sisters will be breaking their fast for the last time before Ramadan comes to an end," Kate Mellon-Anibaba posted on Facebook. "Let's show our Muslim community that we are here for them and that hate has no place in our town."