14yo makes terrifying 6-meter leap of faith as 'Sky Ride' goes wrong at Six Flags park (VIDEO)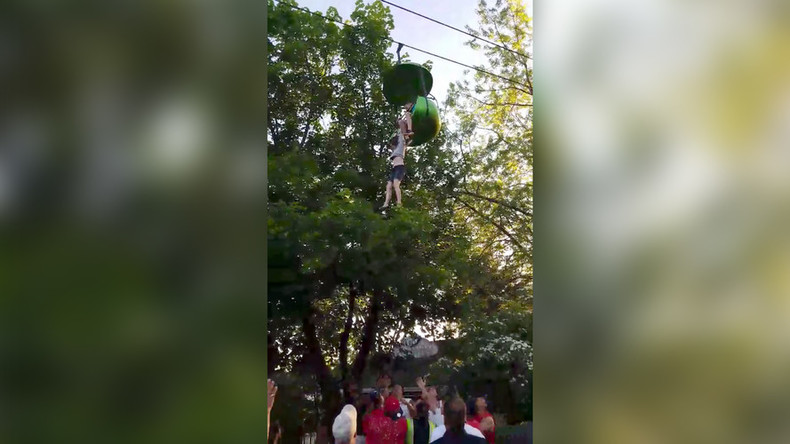 A 14-year-old girl was left hanging by her neck after a trip on an amusement park ride went badly wrong. Luckily, brave park staff and guests banded together and coaxed the girl into making a 20-foot (6 meter) leap of faith.
At approximately 7:45pm local time on Saturday evening operators of the 'Sky Ride' attraction received word that a young girl had become trapped and was dangling from a height. They quickly stopped the ride but the trapped girl's friend warned that the safety bar was choking her.
Quick-thinking bystanders decided to step in and told the girl to wriggle free and drop down from the ride so they could catch her.
The girl hit a branch on her way down but successfully landed in the crowd of employees and brave volunteers.
"You don't know what to do I mean you know you understand that you know somebody falling from 35 feet in the air could cause damage to you or whoever you're catching her with but it's better off to suffer a minor injury to save someone from a serious injury and that's what those guys ultimately did," Loren Lent, who filmed the incident, said in an interview with News 10.
The girl was transferred to a nearby hospital but did not sustain any serious injuries reports News 10, but one of the rescuers was treated for a back injury.
Saratoga Sheriff's investigators and park personnel carried out an inspection of the ride and the car the girl was travelling in and found all safety equipment to be in good working order.
"There does not appear to be any malfunction of the ride, but we have closed the attraction until a thorough review can be completed," a park official said, as cited by the Statesman.