Engine failure shakes AirAsia flight like a 'washing machine' (VIDEOS)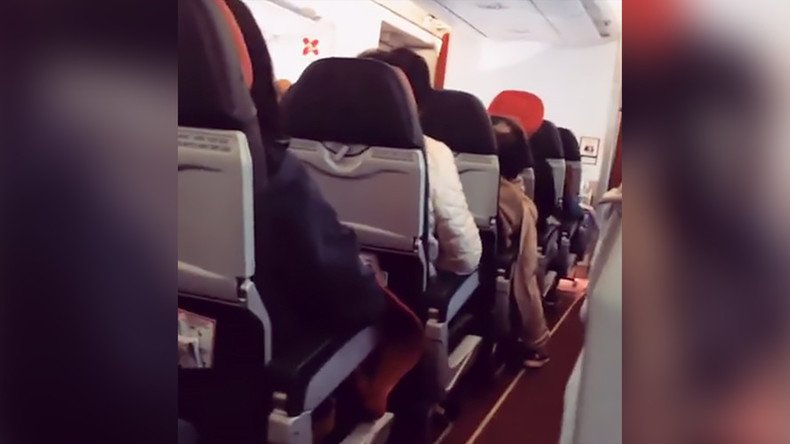 An AirAsia X flight was forced to turn back shortly after take off following a loud bang and violent shaking caused by a technical fault. The bizarre, "washing machine"-like vibrations were caught on camera by terrified passengers.
The Airbus A330 flying from Perth to Kuala Lumpur took off shortly before 7am local time Sunday but just over an hour into the flight one of the engines on the left wing of the plane experienced a violent malfunction.
"He [the flight captain] said 'I hope you all say a prayer; I will be saying a prayer too and let's hope we all get back home safely,'" passenger Sophie Nicolas said, as cited by WA Today.
"It was essentially the engine seized up I think, that's what they told us anyway," passenger Brent Atkinson told ABC News.
"It was literally like you were sitting on top of a washing machine. The whole thing was going. We could see the engine out the window which was really shaking on the wing," he added.
"No-one was freaking out too much. It was a bit nervy. [The crew] handled it really well… After the explosion it started to shake, it started to bounce, but overall the captain did a very good job," Atkinson concluded.
The plane, carrying a total of 359 passengers, landed safely at Perth International Airport at 10am local time, just over three hours after takeoff. There were no immediate reports of injuries.
Emergency services were put on standby for a possible water landing but the measures were only precautionary.
"I was crying a lot, a lot of people were crying, trying to call their mums and stuff but we couldn't really do anything just wait and trust the captain," passenger Sophie Nicolas told ABC.
"He delivered us home safely which is amazing, everybody burst into applause when we landed," she said.
"Of course we were a bit worried but at the end of the day ... we safely landed. I think that is the most important thing," Passenger Tzeyau Chung said.
Dave Parry told ABC that passengers were told to brace for impact on landing.
"Passengers are being attended to by our ground staff upon landing and all necessary assistance are being provided," an AirAsia spokeswoman said, as cited by WA Today.
"Flight crew are taking precautionary measures to check the aircraft and some guests on board the flight will be transferred to the next available flight today."
You can share this story on social media: