Barrage of golf ball-sized hail pummels southeastern Siberia (PHOTOS, VIDEOS)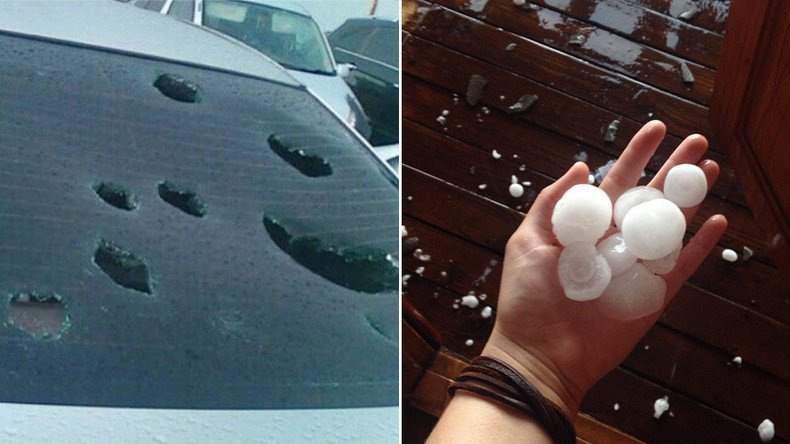 A severe hailstorm has hit the Republic of Khakassia in southeast Siberia, Russia, with golf ball-sized hailstones piercing windows and roofs and damaging property. Terrified residents have posted photos of the icy onslaught from the sky on social media.
The hail struck near the Bele Lake in the village of Shira on Thursday, local media reported.
Some of the hailstones were truly immense. One person uploaded a photo showing a ball fitting in her palm. She explains to her friends on Instagram this was a "medium-sized" hailstone, leaving social media to wonder what the big ones looked like.
"How did you survive?" one person logically asked under the photo.
Many people on social media mourned the crops killed by the pummeling.
"It all happened in an hour. And soon [the meteorologists] predict sun and heat later," one person wrote.
Other photos show car windows and the roofs of buildings that were literarily pierced by the hail.
"Are we having some kind of a climate change?" wondered another person, who posted a terrifying video showing giant hail ricocheting from the ground and hitting a tent.
In the meantime, meteorologists warn that this may not be the last hailstorm to hit the area. According to the local weather service, on Saturday, wind speeds could reach 25 meters per second (56mph), while temperatures are expected to reach 35 °C (95°F).
Russia is experiencing an usually cold summer, with some cities even seeing July snow and winter temperatures. Meanwhile, Europe is suffering from extreme heat.
You can share this story on social media: