Giant squid wraps tentacles around paddleboard, knocks beachgoer into water (VIDEO)
Published time: 21 Jun, 2017 20:06
Edited time: 4 Jul, 2017 07:23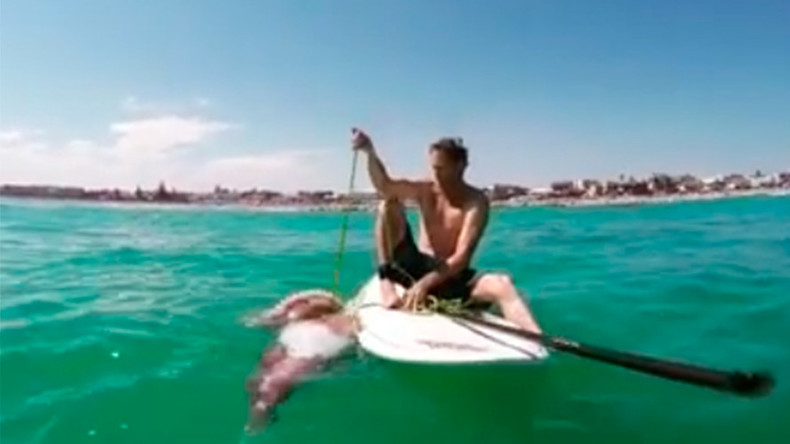 Incredible footage shows the moment an injured giant squid wrapped its tentacles around a paddleboard and knocked the surprised rider into the sea.
The heart-stopping encounter happened near Melkbosstrand, on the south west coast of South Africa, after beachgoer James Taylor spotted the injured creature in the water.
Taylor wrote on Instagram that he wanted to bring the cephalopod to the beach as it was badly hurt.
The video shows Taylor lowering a rope to the giant sea creature - but he was caught off guard by the tentacles animal when it clung on to his board, eventually toppling Taylor.
The video cuts off suddenly, leaving the well being of the squid a mystery but Taylor reveals in the comments of his post that it did not survive.
"Unfortunately it was very badly injured. Had lost a couple of tentacles and had some bite marks on the upper part of its body so it didn't make it. It was already very weak when we caught it," he said.
Some social media users criticized Taylor for his actions, asking why he wanted to bring the creature to the beach and decide where it gets to die.
Taylor said he wanted to take it to the shore for "research purposes before it got more damaged by seals in the area."
One Instagram user claiming to be a squid biologist in Connecticut commented: "Wow this is insane...Did you lasso that squid after noticing it was injured or was it entangled in fishing gear or something when you found it?"
The video has garnered almost 50,000 views stirring up reactions of awe from the majority of viewers.