Doomsdayers on edge as quake 'swarm' rocks Yellowstone supervolcano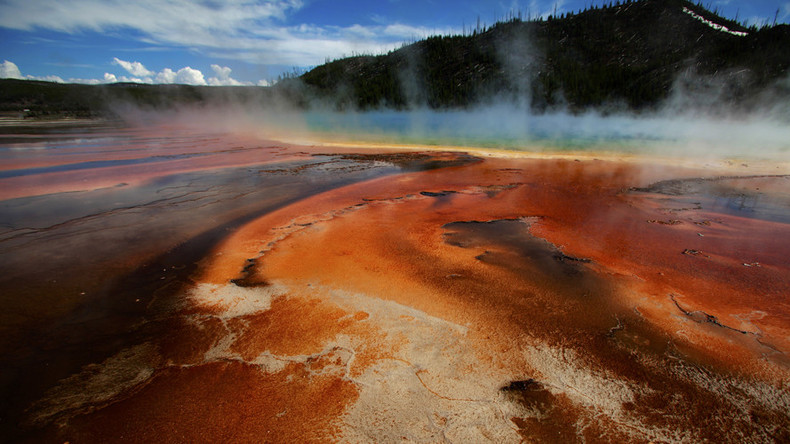 The supervolcano under Yellowstone National Park has once again become a point of focus for doomsdayers after scientists picked up some ominous earthquake activity this month.
Scientists from the University of Utah, responsible for monitoring the supervolcano in Wyoming, said a "swarm" of 464 earthquakes began on June 12 – the biggest being a 4.5 magnitude shudder on June 15.
"The epicenter of the shock was located in Yellowstone National Park, eight miles north-northeast of the town of West Yellowstone, Montana," UU scientists said in a statement. "The earthquake was reported felt in the towns of West Yellowstone and Gardiner, Montana, in Yellowstone National Park, and elsewhere in the surrounding region."
The 4.5 magnitude quake is the largest to hit the supervolcano since a 4.8 quake struck in March 2014. Scientists noted that the "energetic sequence of earthquakes… included approximately 30 earthquakes of magnitude 2 and larger and four earthquakes of magnitude 3 and larger, including today's magnitude 4.5 event."
They added: "This is the highest number of earthquakes at Yellowstone within a single week in the past five years, but is fewer than weekly counts during similar earthquakes swarms in 2002, 2004, 2008 and 2010."
A lot has been trumpeted about the devastating effects of a supervolcano eruption but there seems to be no need to worry on this occasion. The last time a mega-eruption occurred was 640,000 years ago and the supervolcano hasn't erupted in any discernable way for 70,000 years.
READ MORE: Apocalypse Not Now: Yellowstone supervolcano eruption predictable up to 10 yrs in advance
According to experts from the United States Geological Survey, it would take a series of intense earthquakes and ground uplift to get a mega-eruption started.
"Even with explosions, earthquakes, and notable ground uplift, the most likely volcanic eruptions would be the type that would have minimal effect outside the park itself," a report read in 2014.
Approximately 1,000 to 3,000 earthquakes occur each year in the Yellowstone area but most are not even felt.