Canadian mom demands 'white doctor who doesn't have brown teeth' in racist rant (VIDEO)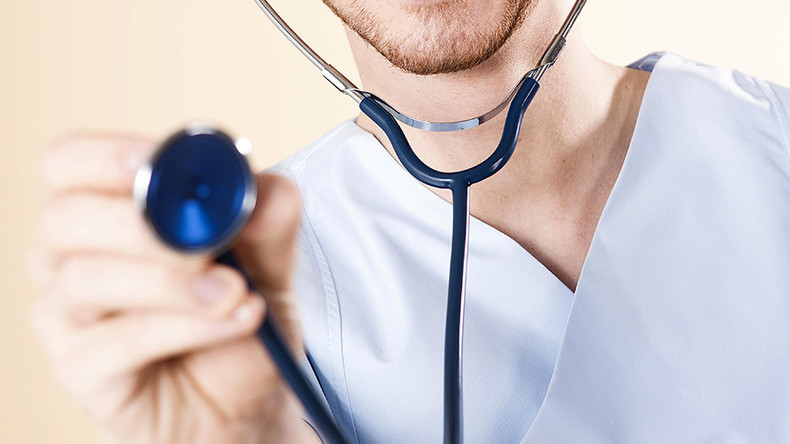 A shocking video showing a mother's racist rant at a walk-in Canadian clinic shows stunned staff and patients attempting to deal with her demands to see a "white doctor" who "doesn't have brown teeth and speaks English."
The four-minute video was posted to social media on Sunday by Hitesh Bhardwaj, who recorded the disturbing incident at Rapid Access to Medical Specialists in Mississauga in Ontario, Canada.
When told no white doctors were presently on duty, the unidentified woman, wearing a yellow top and black jeans, asks a staff member: "What type of horrible country do I live in?"
"Being white in this country I should just shoot myself," she adds.
"My kid is part not white so can we get somebody to see him that at least speaks English?" the woman says to the English-speaking staff member. "We want somebody Canadian to see him, there must be one person?" to which the staff member responds by saying she should take her son to the hospital.
The woman once again reiterates her claim that the doctors there cannot speak English and have brown teeth, this time adding "we do not need his help."
When once again told by staff to go to the hospital, the irate woman shouts: "I'm not going there with all those Paki doctors. I don't have money to go to Georgetown. There's gotta be somebody that speaks English here."
Finally, a fed-up female patient confronts the woman: "Your child clearly has more issues with you being his mother then him needing to see a doctor. You are extremely rude and racist."
When the woman asks why people are "yelling" at her, Bhardwaj then joins in, explaining: "You're yelling at everyone." The woman responds by saying: "You're brown, you're all attacking me because I'm white."
"It's because you're racist," a female patient says, adding that "maybe you should check yourself into the hospital."
CBC Canada reports that police were called to the clinic just after 12:30pm on Sunday for a "disturbance." Const. Mark Fischer said that an officer spoke to "all involved" and the woman's son was eventually treated by a doctor, although whether the doctor was white remains unclear.
No allegations of threats or assault were brought forward by anyone involved and the matter is closed, according to police.