Hyperloop Hotel? Futuristic concept builds on Musk's high-speed transport tunnel (PHOTO)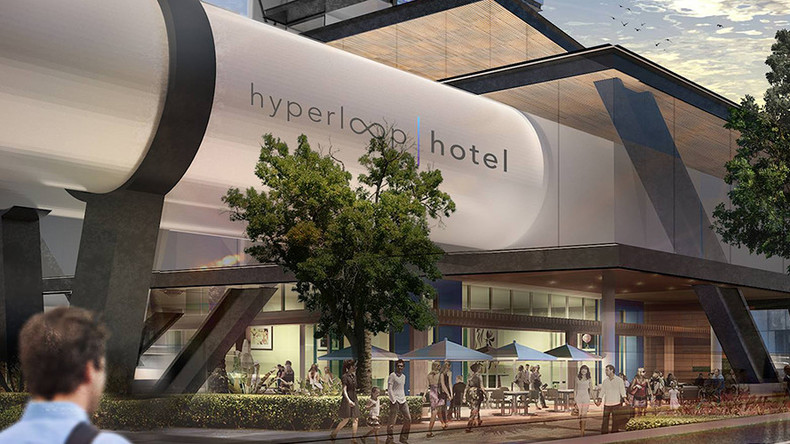 An award-winning futuristic design aims to transform Elon Musk's innovative Hyperloop One into a high-speed transit hotel.
Hyperloop Hotel proposes transforming shipping containers into moving, customizable hotel rooms – allowing guests to travel between 13 cities without ever leaving the comfort of their suite.
Hyperloop One is a proposed mode of transportation that would propel pods of people through a tube at incredibly high speeds. First introduced by billionaire tech entrepreneur Elon Musk in 2013, plans are underway to produce an operational system by 2020.
The idea, devised by Brandan Siebrecht, from the University of Nevada, Las Vegas, won the student prize at the Radical Innovation Awards 2017 – a competition for imaginative hotel designs.
Siebrecht wants to combine a sustainable modular design with luxury accommodation while eliminating the need to buy separate travel tickets to most of the largest cities in the US.
Luxurious guest suites would include an office, a living room with a flat screen TV, a bedroom, and a bathroom.
The hotel would dock at Seattle, Portland, San Francisco, Las Vegas, Los Angeles, Denver, Sante Fe, Austin, Chicago, Nashville, Washington, DC, New York City, and Boston, Business Insider reports.
"Guests would be able to travel to any hotel destination within the network and even visit multiple destinations in a single day," Siebrecht said.
Prices are estimated at a flat rate of $1,200, allowing guests to access the entire network of cities, although individual night rates have not been calculated.
The modular hotel would cost around $10 million each to build, according to Siebrecht, and each hotel size would vary depending on location.
In Siebrecht's vision, the entire experience would be easily managed through a customized app.
A Hyperloop test facility was unveiled in the Netherlands earlier this month.
READ MORE: No more planes? Hyperloop test facility unveiled in Netherlands
Although the technology and infrastructure to pull off the transport-accommodation hybrid doesn't currently exist, Siebrecht believes it could be feasible within the next five to 10 years.
"I believe the Hyperloop One is the next big innovation in transportation in the United States and possibly the world," he said. "I wanted to explore ways in which this technology could transform the overall travel experience and hospitality."