Ireland pays tribute to Native American tribe for 1847 famine support (PHOTO, VIDEO)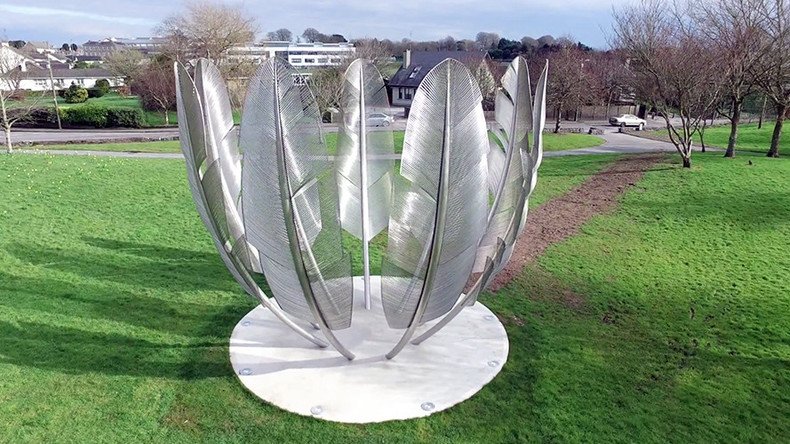 Ireland is set to recognize the extraordinary charity shown to its people by a Native American tribe during the country's 19th-century famine.
A sculpture is to be unveiled in Bailic Park, Midleton, Co. Cork, on Sunday to honor the Choctaw Nation, an indigenous tribe from the southeastern US who, upon learning of the plight of the Irish during the height of the country's famine in 1847, raised $170 to send aid to the country – the equivalent of tens of thousands of dollars in today's money.
Speaking to the Irish Times, Joe McCarthy, the municipal manager for East Cork County Council, said: "The gift from the Choctaw people was a demonstration of love and this monument acknowledges that and hopefully will encourage the Irish people to act as the Choctaw people did."
Sculpture to be unveiled in Cork to remember generosity of the Choctaw Nation, Native American tribe that sent famine aid to Ireland in 1847 pic.twitter.com/UMDTC0fjQB

— Naomi O'Leary (@NaomiOhReally) June 15, 2017
The piece, titled 'Kindred Spirits', is made up of nine 20ft stainless steel eagle feathers, each arranged in a shape reminiscent of a circular food bowl.
"I wanted to show the courage, fragility and humanity that they displayed in my work," said designer Alex Pentek.
At the time of the donation, the Choctaw people were living in extreme poverty after being forcibly removed from their ancestral homeland in states such as Florida and Mississippi and driven west to Oklahoma in 1838. Thousands died during the 500-mile forced migration which would later become known as the 'Trail of Tears'.
Moved by tales of Ireland's own instances of starvation and forced migration, the Choctaw Nation set about raising funds for famine relief.
Choctaw chief Gary Batton and a delegation of representatives from the Choctaw Nation of Oklahoma will attend the Midleton ceremony.
"We didn't have any income," said Batton. "This was money pulled from our pockets. We had gone through the biggest tragedy that we could endure, and saw what was happening in Ireland and just felt compelled to help."
Sunday's event will not be the first time Ireland and the Choctaw people have honored one another.
In 1990, Choctaw leaders traveled to Co. Mayo in western Ireland to take part in a series of historical reenactments. Two years later, a group of Irish anthropologists completed a 500-mile trek from Oklahoma to Mississippi in remembrance of Native Americans who perished on the Trail of Tears.
Former Irish President Mary Robinson is also an honorary Choctaw chief.
You can share this story on social media: