Adam West iconic 'Batman' actor dies of leukemia aged 88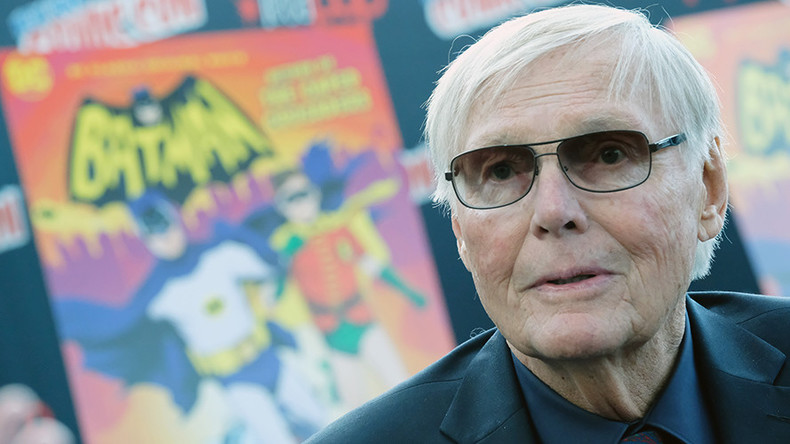 Adam West, the actor in the 1960s Batman television series has died aged 88 after a short battle with leukemia. West died on Friday night, a family spokesperson said.
West became a pop culture icon after Batman first aired in 1966. The actor reportedly failed to get major roles after playing the popular superhero, but later enjoyed success after being cast as the mayor Quahog in the animated series, Family Guy.
Our beloved AW passed away last night. He was the greatest. We'll miss him like crazy. We know you'll miss him too - West Family pic.twitter.com/8bkEq1C2ao

— Adam West (@therealadamwest) June 10, 2017
"Our dad always saw himself as The Bright Knight and aspired to make a positive impact on his fans' lives. He was and always will be our hero," his family said in a statement, as cited by The Hollywood reporter.
West later played Batman again, voicing a number of cartoon versions of the superhero, in shows including The New Adventures of Batman, Legends of the Superheroes and SuperFriends: The Legendary Super Powers Show. He also voiced cartoon versions of himself including an appearance on The Simpsons.
West was born in Seattle in 1928. His father was a wheat farmer and his mother was a pianist and opera singer. His first TV role was playing Detective Sergeant Steve Nelson in The Detectives.
He had roles in Geronimo, Tammy and the Doctor and The Three Stooges film The Outlaws Is Coming before assuming his most famous and beloved role as the caped crusader in the Batman television series.
In an interview with Variety, when asked what Batman meant to him, West responded rather bluntly:
"Money. Some years ago I made an agreement with Batman. There was a time when Batman really kept me from getting some pretty good roles, and I was asked to do what I figured were important features," West said.
"However, Batman was there, and very few people would take a chance on me walking onto the screen. And they'd be taking people away from the story. So I decided that since so many people love Batman, I might as well love it too. Why not? So I began to reengage myself with Batman. And I saw the comedy. I saw the love people had for it, and I just embraced it," he added.
West also lent his voice to a number of animated series, including the Rugrats, Animaniacs and Jonny Bravo.
West began producing artwork inspired by Batman villians in 2016 which he sold on his official website.
"Sometimes, when I think about my [life] over the past 40 years, it is hard to remember all of it," West said.
"Of course, Batman has been an important part of it, and recently, Family Guy. Thanks to your loyalty, both shows have become an enormous success, and Batman has become iconic all over the world. You have no idea how much I appreciate this."
"When I think of the other TV series, the TV pilots and all those years of movies and stage work I have done, they fade a bit from memory. But I am able to continue my work because of the enormous and positive reaction you've given to Batman and Family Guy."